Serving Smoked Meats with a Side of Optimism
Dapple Bar + Kitchen initially opened it's highly anticipated doors in December 2019, only to be quickly shut down in the foreboding months ahead. After the great success of his first restaurant, Pub Grill, eternal optimist and entrepreneurially-minded owner, Erik Velazquez, has managed to make the most of the proverbial downtime. Dapple is now fully reopened with not one, but two new head chefs at the helm, poolside outdoor seating, and the same great concept and food they've boasted from day one.
The word dapple means a spot of color or light against a contrasting background, and this restaurant is just that. The menu is a creative concoction of traditional dishes, building from a base of succulent, slow-cooked meats from their award-winning Myron Mixon smoker.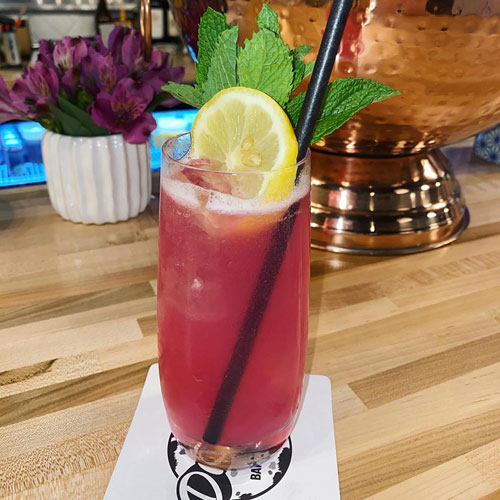 Tale of Two Restaurants
Both local restaurants started as a stroke of serendipity for Velazquez, more opportunities seized than targets conquered. While serving 17 years with Sysco Food Service, Erik was given the keys to show a property at what is now Pub Grill. "I never gave the keys back," he laughs, remembering the beginnings of the local favorite. Now nine years later, not even in the market, he received a sales call about an available property on US1. "After one look and hearing the history of the building, the ideas started flowing. One thing led to another, and Dapple was born," remembers Velazquez.
A Chef(s) Story
One of the biggest changes during the pandemic period happened in the kitchen. Longtime partner and original head chef of Dapple was looking for a change of career, leaving a rather large hole for Velazquez to fill. What happened next was yet another stroke of luck, and goodwill. "I interviewed one extremely capable candidate on a Monday, and ended up offering him the job, to which he said he'd get back to me shortly," explains Erik. "On Tuesday, I interviewed another great candidate, but told him I was waiting to hear back from the first guy." Velazquez now found himself with a delicate situation, and settled by offering the first candidate a job as Executive Chef (EC) and the second as Sous-Chef. Long story short, turns out the two chefs knew each other by reputation and were very keen to work together. After talking amongst themselves, Victor Juan Santos and Aaron Arditti came up with the idea of sharing the EC position, and splitting everything down the middle, an almost unheard of phenomenon in the cut-throat restaurant industry. For them, it was an irresistible opportunity to work together and collaborate in their craft.
Open for Business
Sunday brunch is bustling with poolside seating and bottomless mimosas. "The guests love the live music on weekends, and the Steak and Eggs or Chicken and Waffles are always a favorite," says Erik. Open for dinner every evening except Monday, Pork Belly Burnt Ends, 14-hour smoked brisket or the pre-smoked wings are other exclusive Dapple classics, coupled with the full bar and classic sides.
The chefs are busy perfecting the menu, slowly starting to introduce items of their own and editing to perfect their style. Dapple includes two dining rooms, with an option to close one for private events, plus the poolside outdoor area on loan from the neighboring hotel, ideal for current times.
"I'm always open to new ideas," says owner Erik. He attributes much of his success to his fiancé, Danielle, who has been intricate in the design and marketing, plus General Manager of both restaurants, Tina Mazejka, who Velazquez says he couldn't do without.
---
Dapple Bar + Kitchen is located at 14501 South Dixie Hwy. Call (305) 595-5200 or follow them @dapplebar.
(Visited 129 times, 1 visits today)
Tags:
american
,
drink
,
eat
,
eat and drink
,
FARE // 305
,
food
,
restaurant
Last modified: January 19, 2021