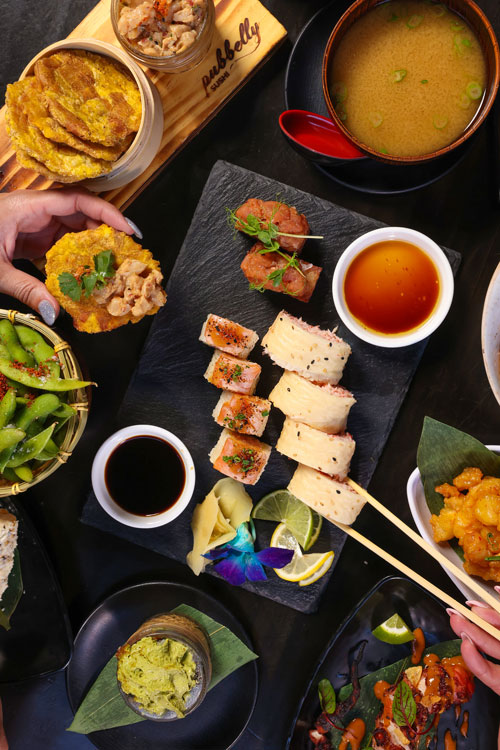 Five courses and an array of classic Pubbelly Sushi favorites – on February 1st, Pubbelly Sushi is launching two brand new menu experiences. 
Designed to be an Izakaya-style experience for two or more guests, the tasting features a variety of small plates, showcasing the diverse menu.
The Pubbelly's Favorites Experience is perfect for first-time guests, or long-time Pubbelly Sushi lovers who want a taste of the entire menu. The Pubbelly Sushi Lover's Experience features sashimi, nigiri, and a variety of sushi rolls. In search of a table for two for Valentine's Day? The Pubbelly Sushi Lover's Experience will be especially recommended on February 14th, offering couples an elegant menu option. Both new menu features are intended to stay on the menu permanently.
To complete the flavor feast, guests can add on a sake flight showcasing a variety of sake options.
The Pubbelly Experience:
$65 per person, (minimum 2 people)
Edamame (1 order)
Miso Soup Traditional (2 ea)
Rock Shrimp Tempura Traditional (1/2 order)
Tostones con Ceviche (1 order)
Lobster Donuts (2 ea)
Bigeye Tuna (2 ea)
Butter Krab Roll (1 order)
Sake Aburi (1/2 order)
Truffle corn (2 ea)
Kimchee Rice (1/2 order)
Grilled Octopus (1 order)
Miso Bread Pudding
Mason Jar
The Pubbelly Sushi Lover's Experience:
$75 per person, (minimum 2 people) 
Edamame (1 order)
Miso Soup Traditional (2 ea)
Crispy Hamachi Sashimi (1/2 order)
Bigeye Tuna Sashimi (1/2 order)
Salmon Lemongrass Sashimi (1/2 order)
Bigeye Tuna Roll (3 ea)
Butter Krab Roll (1 order)
Sake Aburi (1/2 order)
Heat Roll (1/2 order)
Rock shrimp Tempura Roll (1/2 order)
Wagyu Nigiri (2 ea)
Yellowtail Nigiri (2ea)
Tuna Nigiri (2 ea)
Salmon Nigiri (2 ea)
Miso bread pudding
Mason Jar
*The menu prices above do not include taxes and tip
(Visited 5 times, 1 visits today)
Tags:
eat and drink
,
sushi
Last modified: February 16, 2023