Sam Levine wants you to throw away your mental image of a yogi.
The cliché visual of a flexible, contortionist-like character is far from the reality of the strength-building "structural integrity" that Levine embodies in his Falls-area studio. In fact, the longtime teacher and Sunshine Hot Yoga owner is passionate about breaking down the myths about what exactly it means to be a yoga student. "Some people need more flexibility, but they don't need to wrap a leg around their head," says Levine. "We are 100 percent therapeutic yoga. Each class is designed so that you will build strength and along the way gain a greater range of motion. There's a lot of technique involved."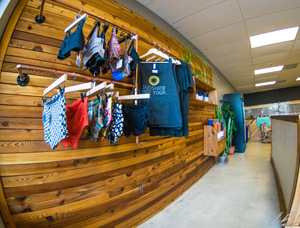 Levine's yoga journey began as a way to heal his own back pain, a common complaint among students who are drawn to hot yoga for it's therapeutic benefits. "We do a lot of backbends to extend the hips and to bring the pelvis into alignment," says Levine. "I work with everyone from athletes who have sports injuries to people who suffer from arthritis and other injuries that cause a restricted range of motion. Hot yoga reorganizes your muscles."
The myth of hot yoga is another misconception that Levine seeks to break. While acknowledging that the practice is "strenuous and challenging," he is also quick to praise his wide range of students (from teens to seniors) and his state-of-the-art facility that includes a heating system that actually "breathes" with the room. "The room is not hot like a sauna or steam room. No one can exercise in that," says Levine. "It's a 1600-square-foot room with 13-foot ceilings. The room itself is inhaling and exhaling, it's constantly exchanging air and keeping the room fresh. It does not get stuffy."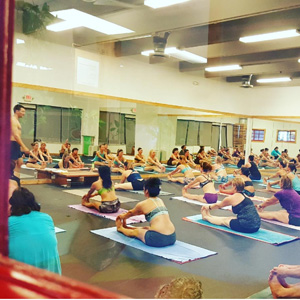 The room, paired with certified teachers, small classes and hands-on instruction allows students of all levels to reap the benefits of hot yoga without the fear of failure. "We use mirrors a lot during the class so that the students can self correct," says Levine, who recommends students come to class well hydrated. "We are constantly giving tips and tricks. If a student has an injury we work with them to address their specific situation."
In addition to physical benefits, Levine says the mental benefits of yoga are often keys to helping manage stress and anxiety. "You're doing this challenging thing- you either react or you respond and you are able to navigate through anything," he says. "You're practicing being challenged. You learn to breathe."
---
Sunshine Hot Yoga is located at 1387 S Dixie Hwy, in Palmetto Bay. For more information, please email sunshinehotyoga@gmail.com or visit sunshinehotyoga.net.