Brewery extends hours of operation amidst launch of new food menu, celebrates summer months with a variety of off-centered events, including a limited-edition beer release brewed in collaboration with Creature Comforts Brewing Co.
Dogfish Head Craft Brewery's off-centered, Wynwood-based outpost, Dogfish Head Miami is best known for its innovative ales, beer-infused eats and immersive artwork, but this summer the brewpub is taking things to a whole new level. From special events and philanthropic partnerships to limited-edition beer releases and exhilarating collaborations, Dogfish Head Miami will – no doubt – be one of the season's hottest hangouts! Here's what folks can expect.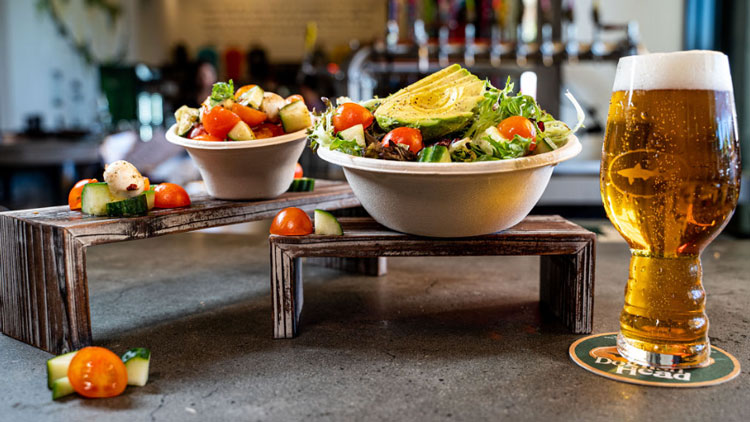 Dogfish Head Miami kicks off summer with the launch of a new food menu and extended service hours. Guests are invited to stop by the brewpub Sunday through Thursday* from noon to 10 p.m., and Friday and Saturday from noon to midnight, to chow down on the kitchen's gamut of full-sized appetizers and entrees, including burgers, sandwiches, salads, tacos, empanadas and more. Available NOW, all the menu's new eats are complemented by an array of scratch-made, beer-infused dressings and sauces prepared in-house by Chef Charlie Mendoza-Sewell.
"Dogfish Head Miami has a uniquely authentic way of serving the community, and the new menu was a direct response to the community's feedback while utilizing locally-sourced ingredients.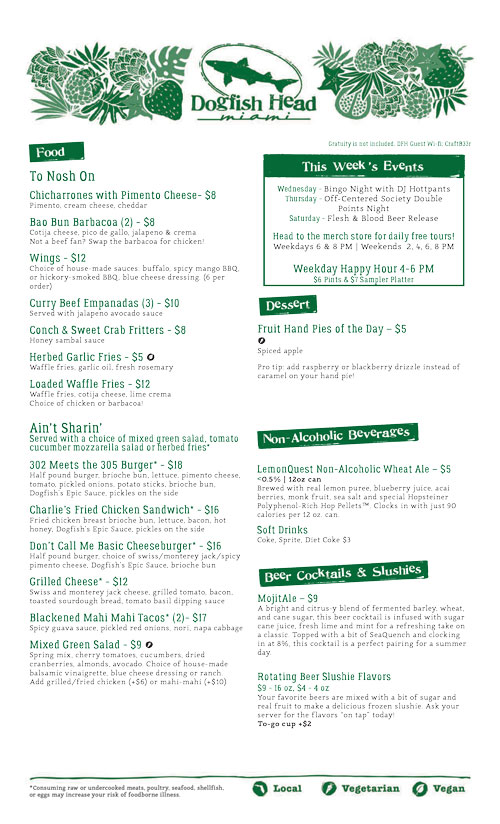 Guests will really enjoy the unique food and beer pairings featured on this menu, with each new beer release, I challenge myself to find fresh, local ingredients that make our beers shine through like our mango BBQ Sauce featuring the SoFlo pilsner." says Chef Mendoza-Sewell.
And to pair with their off-centered bites, guests can check out Dogfish Head Miami's lively list of summer events, complete with something for everyone to enjoy. Upcoming events include:
Available NOW – SoFlo Pils Can Release: Fan-favorite SoFlo Pils (5.5% ABV) is now available – for the first time in cans – at Dogfish Head Miami's on-site merchandise shop. Priced at $16 per 4pk/16oz cans, SoFlo Pils is a golden-colored pilsner chock full of classic, floral hop aromas and subtle hints of South Florida citrus and tropical fruit.
Available NOW – Flesh & Blood Can Release: A local recreation of a long-loved Dogfish Head beer, Flesh & Blood (7.5% ABV) is an honest-to-goodness IPA brewed with a bevy of real citrus, including sweet orange peel, mouth-puckering lemon flesh and blood orange juice concentrate. Grab a 4pk/16oz cans for $16 each.
Saturday, July 16 – Guava Belly Can Release: Brewed in collaboration with Creature Comforts Brewing Co. from Athens, Ga., Guava Belly (7.0% ABV) is a limited-edition beer celebrating the agricultural bounties of both South Florida and Georgia. Available beginning at noon for $16 per 4pk/16oz cans, Guava Belly is a fruited sour ale brewed with Florida-grown guava, a Georgia-grown tea blend and for an additional layer of complexity, a S.C.O.B.Y. from Radiate Kombucha, a Miami-based kombucha company. On the day of the Guava Belly can release, Dogfish Head Miami will also feature a guava empanada food special, Guava Belly running through the Randall and a guava beer slushie.
Saturday, July 23 – Shark Attack Day: Dogfish Head Miami is kicking off the nation's annual week of the sharks with a special "Shark Attack" event. Come on in throughout the day for a limited-time "Shark & Shield" slushie or a pint of the day's shark-themed Randall offering. And don't forget the shark-inspired attire! Those that arrive in shark-centric gear will be entered into an exclusive raffle for a chance to win some off-centered swag. To accompany the day's theme, Dogfish Head Miami will host a Benevolence Night with a portion of the day's proceeds benefiting the Surfrider Foundation, an environmental non-profit dedicated to protecting and preserving the world's oceans.
But that's not all! Dogfish Head Miami will also continue to host its expansive collection of recurring events throughout the summer and beyond … don't miss out!
Brewery Tours – Daily: Free guided tours of Dogfish Head Miami's brewhouse. Attendees will learn about the brewing process and history of Dogfish Head, and those 21+ will receive a complementary beer sample. Tours available Monday through Friday at 6 p.m. and 8 p.m., and Saturday and Sunday at 2 p.m., 4 p.m., 6 p.m. and 8 p.m.
Game Night – Mondays: Game on! 8bit Entertainment Systems will be onsite every Monday from 5-9 p.m. with a host of old school video games for folks to play. And for those that work in the beer and restaurant industries, be sure to say hello for a special "Industry Night" discount.
Bingo Night – Wednesdays: Every Wednesday from 6-8 p.m., DJ Hottpants will be in the house for an off-centered Bingo Night. It's free to play and to keep this weekly party going, Happy Hour will be extended to 8 p.m.
Double Points Day – Thursdays: Members of the brewery's Off-Centered Society loyalty program will receive double points on their purchases all day, every Thursday. To learn more about the Off-Centered Society, or to join the club, visit www.dogfish.com/off-centered-society.
Hoppy Hour – Weekdays: Beer lovers can stop by Monday through Friday from 4-6
p.m. for an off-centered "hoppy" hour featuring $6 draft beers and $7 sampler platters.
Live Music – Weekends: DJs, bands, acoustic acts and more! Every Saturday and Sunday brings a rotating lineup of live music performances to Dogfish Head Miami. Click HERE to check out the latest on each week's performers.
Sip & Speak – Monthly: The last Thursday of every month at 7 p.m., Dogfish Head Miami will host a Sip & Speak Open Mic Night in collaboration with Speak Miami. Guests interested in signing up to perform should arrive at 6:30 p.m.
Vintage & Vinyl – Monthly: The first Friday of every month from 4:30-6:30 p.m., the taproom will dig into its vintage beer stash to pour some deliciously-aged brews paired with vinyl tunes.
---
For more information about Dogfish Head Miami, including hours of operation and upcoming events, visit www.dogfish.com/restaurants/dogfish-miami or follow @dogfishmiami on Instagram and Facebook.
*Current hours of operation are Sunday-Thursday from noon to 10 p.m., and Fridays and Saturdays from noon to midnight. Dogfish Head Miami is closed on Tuesdays.
(Visited 102 times, 1 visits today)
Tags:
drink
,
eat and drink
,
eats
,
miami
Last modified: July 18, 2022