After illegal fireworks sparked a fire that destroyed the restaurant's entire tiki dining area, this South Dade seafood hotspot opened the next morning with takeout, new indoor and garden dining, summer specials and more
Less than 12 hours after a raging fire destroyed the popular Grande Tiki at Golden Rule Seafood—a family-run seafood market and restaurant that has been an institution in the South Dade community since 1943—the neighborhood icon was back open for business with a full-service market, reopened indoor dining, takeout and curbside service, live music and a slew of exciting new summer menu items for its loyal patrons.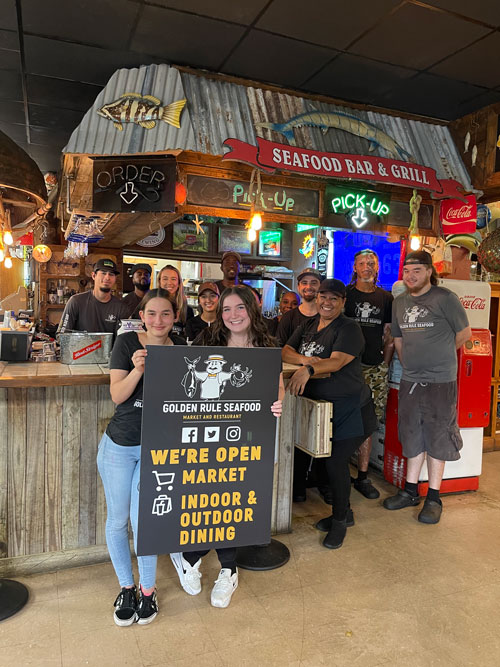 The fire, which the Miami-Dade County Fire Rescue determined was started by illegal fireworks, broke out just before 10 p.m. on July 4, 2022. While many were on their way home from July 4th celebrations, neighbors and passersby called 911 and posted countless videos on social media of Golden Rule Seafood's tiki hut engulfed in flames. The entire Grande Tiki dining area was lost in the fire, which housed 100% of the restaurant's in-house dining since the start of the COVID-19 pandemic. Luckily, no one was injured and firefighters were able to contain the fire to just the Grande Tiki—leaving the entire building, market, kitchen and outside garden in operational condition and able to open for business at 10 a.m. on Tuesday, July 5.
While the Grande Tiki is closed and undergoing plans to rebuild, Golden Rule Seafood has reopened its inside dining for the first time since COVID-19 and added seating to its lush back garden. The market is gearing up for lobster season on August 6, and to encourage guests to keep coming to the restaurant, the owners have plans to add weekend live music to the garden area and are already launching a menu of summer specials. Making light of a sad situation, guests can also look forward to "smoky" dishes and cocktails in the very near future.
Debuting this weekend, the summer specials will include mouthwatering "teasers" like fresh Black Mussels steamed with garlic and wine and topped with a truffle Parmesan or Tuna Poke Bites that top fried rice cakes with fresh tuna poke and a drizzle of spicy mayo. As for entrées, Golden Rule's loyal fans love the Surf & Turf Burger with shrimp, crispy fried onions and a house-made cheese sauce on a rosemary focaccia roll, and the Shrimp & Crawdad Melt, which smothers shrimp and crawdad tail with four cheeses (cheddar, jack, American and mozzarella), is sure to be a hit. Looking for something a little lighter? Try the Summer Peach Salad with mixed greens, tomatoes, Bermuda onions, cucumbers, goat cheese, candied walnuts and roasted peaches served with a peach-glazed salmon. Finish it all up with the dessert of the season, Roasted Peach Stuffed French Toast with Nutella, roasted peaches and vanilla ice cream, and you won't be disappointed.
Of course, an indulgence like this deserves a cocktail, and Golden Rule Seafood's summer specials have some new drink additions guests will love. Rum drinkers can opt for the Biscayne Blue with Flor de Caña rum, Tito's vodka and Blue Curaçao or the Fisherman's Sunrise with RumHaven Coconut Rum and orange, pineapple and passion fruit juices. Cool down with a Southern Peach Tea with Woodford Reserve bourbon and freshly-brewed, peach-infused sweet tea, or try the Sunshine Mojito with Grey Goose White Peach and Rosemary-infused vodka and simple syrup. Finally, the Strawberry Lemonade Martini has a sweet combination of strawberry-lemongrass vodka, strawberries and fresh-squeezed lime juice. 
For most businesses, a fire like this would be a devastation worth closing for. But for Golden Rule Seafood, it was a rally cry that brought the community together to help save a true neighborhood gem—one that kept that community going throughout the COVID-19 pandemic because of its great food, great camaraderie and safe, outdoor dining.
"We have been overwhelmed by the love and support that our community has offered since the fire," said Courtney Reeder, Operations Director of Golden Rule Seafood. "The love has been palpable. We've had fellow businesses in Palmetto Bay bring us tables and chairs, neighbors help us clean up the mess and constant phone calls from customers, family, organizations and friends. We know we will rebuild, and our Palmetto Bay community is a huge part of our inspiration to do so."
Golden Rule Seafood first opened in 1943 as a general store, became a seafood market in the 1980s and, in 2014, expanded to include a full-service restaurant specializing in locally-inspired comfort food. The addition of the Grande Tiki in 2017 grew the restaurant exponentially, filling the outdoor area with diners almost every night of the week—especially when the pandemic made outdoor dining a premium. Seafood lovers go to Golden Rule Seafood for blue crabs (they're caught fresh by local fishermen each morning), Florida stone crabs, snapper, grouper, mackerel, mahi-mahi, Key West pink shrimp, oysters shucked in house, lobster and some of the best seafood from around the world. Golden Rule Seafood is a fixture in the Palmetto Bay community, and has been owned by the same family for over 50 years.
---
Golden Rule Seafood is located at 17505 South Dixie Highway, Palmetto Bay, FL 33157. For more information about the seafood market and restaurant, visit www.goldenruleseafood.com or call (305) 235-0661. Make sure you follow @goldenruleseafood on Facebook and Instagram for updates about the fire, the Grande Tiki rebuild, new menu items and upcoming events.
(Visited 505 times, 1 visits today)
Tags:
fourth of july
,
restaurant
Last modified: July 18, 2022