Background
As with many philanthropic leaders, Bartel's calling to community service started at an early age. "I can't remember a time, even when I was very young, that service wasn't part of my daily life and that of my family," he says. Inspired by those around him, Bartel started small, raising money for UNICEF via cub scouts and bringing food to migrant workers in South Dade before stepping into leadership positions with the Orange Bowl Committee, Greater Miami Chamber of Commerce, Beacon Council, Leadership Florida, Baptist Health Foundation, Camillus House and United Way. "It has been multi-generational. My brother has the same core value of service, and so do his children and mine," he says. "I believe engaging kids, from an early age, makes a positive lifelong impact."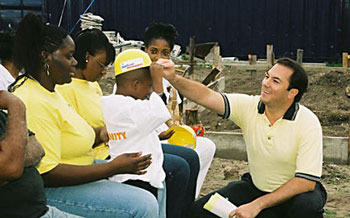 Making Time
Though busy with his own career and family, Bartel says that finding time to give back is more than just an extra in his daily life, it's a longtime pillar or "block." "For me, I have always considered service — community leadership, public service, pure philanthropy — to be a block of my day, a block of my life. It is as important as any other aspect of who I am," he says. Bartel also admits that finding success has given him more control over the time he has to dedicate to the effort, allowing him to take on leadership roles and spend more time and resources on the organizations he holds dear.
Coming Together
As a longtime leader in community service, Bartel has had a front-row seat to the growth of South Florida's nonprofit community, and though proud and supportive of the efforts ("We have more nonprofit organizations per capita than almost anywhere else in the country," he says.), he does see opportunity for evolution moving forward. "It is really important that like-minded organizations with similar missions work collaboratively rather than competitively for the same volunteers and financial support," he explains. "It is a structural change in the local nonprofit infrastructure that needs to take place." As for where he sees the need for focus? Bartel says children's and elderly health, and children's education top the list.
What has motivated me most has been the results. I love helping organizations and projects to deliver real, tangible outcomes for people, places, and organizations. Seeing that just makes me double my efforts the next time.
The Next Generation
Right now Bartel says his family is looking most into children's health; lower, secondary and higher education; and arts programs that serve children via continued support of local hospitals and schools and his own alma maters. He is also looking at passing down the idea of getting children involved early and often when it comes to community service. "When a young person spends their time, talents, and treasure to support good causes such as in social services, health, education, and the arts, they not only do service that can support and serve others, but they learn that it makes one feel good inside as well," he says. "That is then the catalyst for more giving."
(Visited 151 times, 1 visits today)
Tags:
giving
,
helping
,
philanthropist
,
unicef
Last modified: April 2, 2020