Especially amidst the current viral outbreak, protecting your eyes and keeping eyewear clean is important. Here are the TOP TIPS on how to maintain this often overlooked element of hygiene from Heidi Hertel, Founder of Fitz Frames.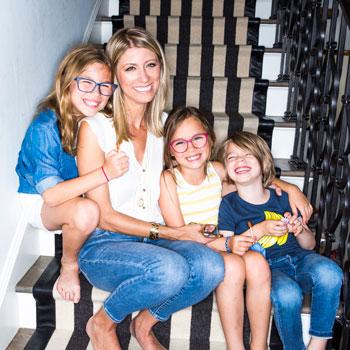 UTILIZE THE BUILT IN BARRIER.
Wearing eye glasses is a good way to shield your eyes from respiratory droplets if someone happens to cough or sneeze near you. Of course, because of this, people should treat their glasses like any other surface and clean them frequently before touching them. We recommend it daily.
KEEP IT CLEAN.
Most of us are pretty good about keeping our lenses clean, but the frames? Remember to use soap, water and a soft cloth when cleaning the glasses and lenses. This works better than paper towels, tissues, etc. which can scratch and damage lenses. Most glasses cleaning cloths can be thrown in the washing machine a few times and reused for months or, even years. This probably goes without saying, but putting glasses in the mouth is a definite no-no.
DON'T TOUCH.
Don't rub your eyes. Most people do this more than they realize and are constantly potentially infecting a key portal of the body with germs. One thing that helps is wearing my glasses during the day. We tend to touch less – saving us from germs as we work on the computer, touch the car steering wheel, pick up the phone, pay via credit card, etc.
SCREEN THE SCREENS.
Be aware of screen time. We are all on a lot of screens, especially considering the current environment. It's important to remember this increase in screen time adds additional stress on the eyes. Bluelight glasses filter out harmful emissions from screens and they can also protect sleep cycles – which we all really need right now. Studies are still being conducted on the effects of bluelight, but at a minimum, filters and breaks during the day are recommended by eye doctors.
SUNGLASSES ARE GLASSES, TOO.
For those that are switching back and forth from sunglasses to reading to bluelight etc., it can be easy to forget to continually clean all of these (see tip 2). Make sure you have a pair of back-up glasses. It is truly a nightmare for a child (or an adult) who needs prescription or sunglasses to be without them. No one wants to run to multiple stores right now and it's tough to force a pair of glasses on a kid just because they are available.
(Visited 15 times, 1 visits today)
Tags:
bluelight
,
eyewear
,
glasses
Last modified: April 2, 2020