Ballet Flamenco La Rosa (BFLR), an international flamenco dance company based in Miami, and made up of professional dancers and musicians from Spain, the U.S. and Latin America, announces the premiere of its latest Pure Flamenco work Callejon Flamenco. Featuring three Special Guest Artists direct from Spain, the performances will take place on Saturday, March 14 at 8 pm. and Sunday, March 15 at 3 pm at The Main Street Playhouse in Miami Lakes, Florida.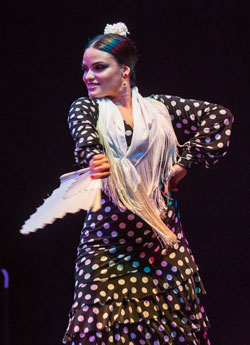 Led by the world-renowned master teacher, choreographer, soloist and Artistic Director Ilisa Rosal, BFLR presents the spellbinding and earthy power of authentic Flamenco dance at its best. With its spectacular footwork, precise athleticism and vibrant energy, the performances are at once sensual and spiritual, raw and refined, and filled with both restrained passion and electrifying release – making it a powerful and passionate language of expression. This production incorporates live music, created and arranged by a guitarist and singer, brought directly from Spain to collaborate with the company dancers and choreographers.
Born in Medieval Andalucía (southern Spain) in the Middle Ages, when Europeans, Arabs, Jews, Gypsies, and Africans co-existed in a Golden Age of art and learning, this art form has fascinated writers, poets, composers, painters, sculptors, choreographers, and audiences for centuries. It has developed into one of the most respected and cherished music and dance forms, evolving into the highest level of technique and artistic expression that has led to it being declared a World Heritage Treasure by UNESCO.
"Flamenco is a passionate form of expression that delights and inspires audiences with a breathtaking theater experience full of earthy force, spellbinding movement, subtle nuances, and
explosive energy," remarks Rosal. "These performances also mark a milestone in BFLR's history as the first concerts of our 35th Anniversary Season.
WHEN: Saturday, March 14 at 8 p.m. Sunday, March 15 at 3 p.m. 
WHERE: Main Street Playhouse, 6766 Main St, Miami Lakes, FL 33014 
TICKETS: General Admission $30 Advance, $35 Door
For more information about Ballet Flamenco La Rosa, visit www.balletflamencolarosa.com Facebook, Twitter – @BFLRMiami and Instagram – @BFLRMiami.
The Ballet Flamenco La Rosa Performing Arts School, in collaboration with PAN, Performing Arts Network offers the community diverse artistic experiences under one roof, featuring dance, music and theater classes in a nurturing environment for students of all ages and levels. The program offers high quality training with small class sizes that allow students to have individual attention from professional artists that are among the best in their fields. It creates a fertile environment for future artists and audiences to grow.
In addition to classes in Flamenco dance, singing and guitar, offerings include Ballet, Stretch and Barre, Contemporary Dance, Jazz, Tap, Hip-Hop, Afro Haitian Dance, Belly Dance, Movement for Rehab and Aging, Acting in English and Spanish, Piano, Guitar and Vocals (Rock, Folk, Pop, Soul, Classical, Jazz, Latin, Folk and Country) Yoga, Music Writing and Creative Writing

(Visited 74 times, 1 visits today)
Tags:
dance
,
flamenco
,
latin america
,
playhouse
,
spain
Last modified: March 6, 2020