The National Cycling League (NCL) made sports history this past weekend, on Saturday, April 8, debuting the world's first professional cycling league race in a new, action-packed race format in Miami Beach. With over 20,000 people in attendance and many more streaming globally, the National Cycling League (NCL) proved cycling could be a world-class spectator sport.
Co-founded by Paris Wallace, David Mulugheta, Randall Clark, and Mark Wilkins in 2022, the NCL's mission is to re-imagine cycling and turn it into a spectator sport, one that is filled with non-stop action, is easy to watch and has mixed-gender teams where men and women contribute equally to the scoreboard.
The mixed-gender teams consist of athletes from around the world, such as Olympic stars like Daniely Garcia, Paola Muñoz, Leah Kirchmann, Serghei Tvetcov, world champion Sergio Henao, and more.
The NCL Cup is a series of 4 criterium races on the most iconic city streets throughout the country; Miami Beach was first, followed by Atlanta, Denver, and Washington D.C. Teams are competing for a purse prize of over $1 million, the largest in U.S. Cycling.
The NCL Cup Miami Beach Invitational featured a full week of family-friendly activities leading up to the professional races. The community participated in charity group rides, kids' races, and volunteer opportunities.
The races started with the professional women's teams, followed by the professional men's teams. The race format consisted of 25 laps of a 1-mile circuit where points were earned for the first three finishers of every lap and additional points for the last lap. Crowds watched anxiously as riders zipped passed every ~2 minutes and sprinted across the finish line. Athletes needed to work with their teammates to strategize keeping pace the entire ride, consistently working together on every lap versus just the end. For the first time in a crit race, substitutions were also allowed and riders would quickly enter the pit and sub out for a different rider. The male and female scores contributed equally to the total team score, and the Denver Disruptors Cycling Club team won the overall event with the most points (138).
Celebrities in attendance included Family Karma's Vishal Parvani & Richa Sadana, NFL's Derwin James, Jalen Ramsey, Kevin Byard, Warren Sapp, Brian Orakpo, and Desmond Howard – who observed the races from the exclusive hospitality section in their VIP seats. The event was hosted by broadcasters Rachel Lindsay, Rahsaan Bahati, Brad Sohner,and Ivan Dominguez.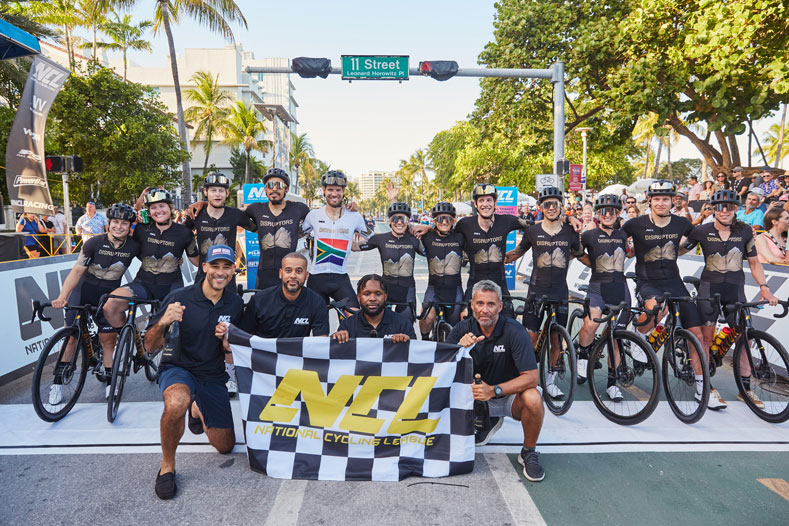 (Visited 18 times, 1 visits today)
Tags:
cycling
,
miami
,
national cycling league
Last modified: April 19, 2023