Summertime is synonymous with pool time, beach days and, of course, outdoor barbecues. Most people are ready to leave quarantine life behind and embrace the balmy breezes, salty air and vitamin D that the South Florida lifestyle offers. But no summer event would be complete without some mouthwatering down-home barbecue dishes to please even the pickiest of palates.
Harvey's BBQ Kitchen has been serving up some of the best barbecue for more than 10 years now, and they take pride in creating authentic "low and slow" dishes that take anywhere from 6 to 20 hours to prepare. As they say, "Smoking is an art," and you can't rush perfection.
Culinary Passion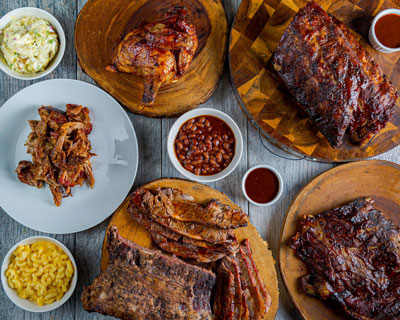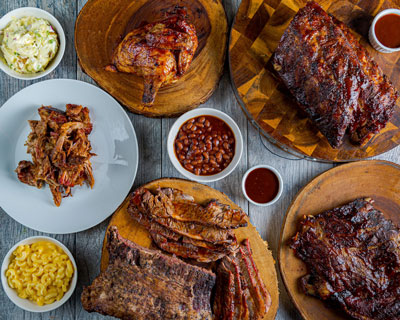 To better understand what makes Harvey's BBQ special, you need to learn its story. Harvey's passion for cooking started when he was just a child watching his parents and grandparents cooking and grilling. He went on to earn a degree from Florida Culinary Institute and honed his craft by working in various positions in the restaurant and luxury hospitality industry, including AAA Four and Five Diamond resorts like The Ritz-Carlton and Cheeca Lodge & Spa. He also provided catering for a variety of high-profile clientele while at Barton G. All this experience fueled Harvey's entrepreneurial spirit, which led to him launching his own brand. A chef for more than 30 years now, Harvey brings a unique skill set, passion and creativity to his art.
The creative menu includes quality meat smoked with flavorful and original dry and wet rub seasonings and palate-pleasing barbecue sauces that you can't get enough of. Harvey calls it "progressive BBQ from all four traditional BBQ regions (Carolina, St. Louis, Memphis, and Texas) while still offering authentic and classic southern BBQ side accompaniments." In fact, he uses his family's recipes and fresh ingredients to create made-from-scratch food. He's focused on changing how we view the barbecue experience — taking it from "pigs and picnic tables" to carving out a new niche where barbecue is seen as an art form.
Originally, Harvey's Smokehouse BBQ was a brick-and-mortar location in Cutler Bay that offered takeout, delivery and catering for 10 years. "In business you must constantly reinvent, assess your business and look for opportunities. We had outgrown the space with no opportunity for physical expansion, so we did a reset, and our virtual brand concept was launched in 2019," says Harvey.
A New Virtual Dining Experience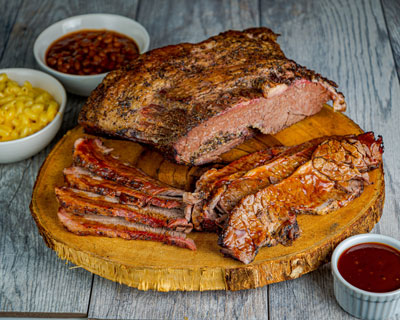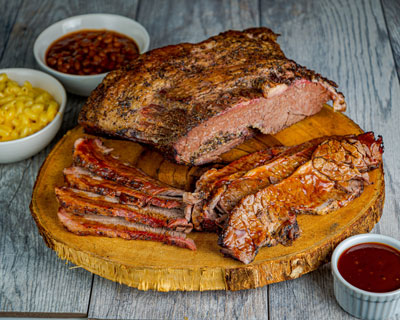 While catering and delivery are still offered, they've added curbside pickup as an option. But the biggest evolution has been introducing online app ordering to meet customer demand. Harvey's now operates as a virtual ghost kitchen, cooking up all their delicious food from a warehouse kitchen that provides triple the space they previously had. You can order online at harveysbbqkitchen.com, or via all the major food delivery apps (UberEats/PostMates, DoorDash and GrubHub). They employ their own drivers, which gives them more control over packaging and food delivery handling, and they cover all areas from Cutler Bay to Coral Gables and west to Kendall. If you preorder in Key Biscayne or Downtown Miami, they can also accommodate your request.
The added kitchen space also allows Harvey's to offer catering for larger groups, so you can feed 25 or 500 people. From corporate events and personal functions to larger social gatherings, they will provide you with the perfect options. Harvey's can even cater your elegant rustic-style wedding (they're a preferred vendor at Spur of the Moment Ranch in the Redland).
What's the Most Popular Menu Item?
This is probably the No. 1 question they get, but it really depends on your mood. Ribs, brisket, pork, chicken, wings … and don't forget the sides — mac 'n' cheese, potato salad, coleslaw, baked beans, homemade collard greens and cornbread. "If you're a newbie, order the Sampler, which serves six to eight people, or the Jr. Sampler, which is perfect for two to four," Harvey suggests. "You can't go wrong because it gives you the opportunity to try a little bit of variety."
The reviews — from three-year-old twins who asked for Harvey's for their birthday to a customer who tattooed "Harvey" on his arm — are a testament to the quality and care that goes into making each dish special.
Harvey and his team are always learning, reinventing and elevating the barbecue experience. That's why the next phase will include launching an e-commerce platform and bottling their own brand of barbecue sauce, making it available to more customers. It's now in the development phase, and they expect to roll it out in the coming months.
---
Order online at harveysbbqkitchen.com or via all the major food delivery apps. If you preorder, pickup is available at 13920 SW 139th Court (The Food Factory). For more information, call 305.233.1227 and be sure to follow and like them on Instagram and Facebook @harveysbbqkitchen.
(Visited 565 times, 1 visits today)
Tags:
barbecue
,
BBQ
,
eat and drink
,
harvey's bbq kitchen
Last modified: May 24, 2021