After being cooped up for almost a year and with things finally starting to open up, people are asking me where they should go on their summer vacation. I have just the place and one that is a personal favorite: Jackson Hole, Wyoming. This summer is the perfect time to get out in the fresh air and get your body moving. One thing is for sure: You will be tired at the end of the day but feeling exhilarated at the same time. There are only two downsides to Jackson Hole: You will have to prioritize because there is so much to do, and eventually you will have to leave.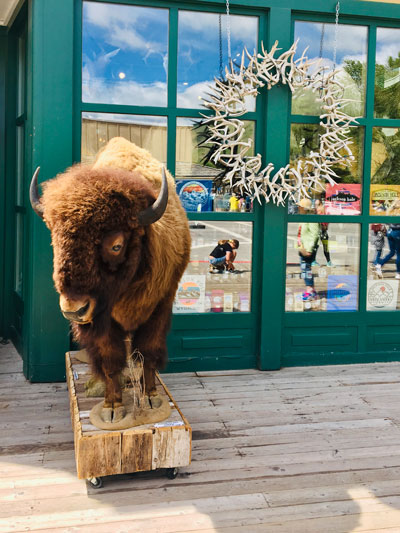 Here is what is going on in the summer months:
June
A shootout in the Town Square at 6 p.m.
Attend the rodeo
Stargazing on Friday nights
Mountain Bike and Grand Adventure opens at the Jackson Hole Mountain Resort
Granite Hot Springs Pool
Crawfish Boil
Art Walks
Food and Wine Festival (June 24-26)
Arts and Antiques Fair in Teton Village (June 25-27)
Talon Tuesdays with the Teton Raptor Center
Historic walking tours of downtown
July
Concerts on the Commons in Teton Village
4th of July celebration with Howdy Pardners parade, fireworks and Patriotic Pops by the Grand Teton Music Festival orchestra
Thin Air Shakespeare: Much Ado About Nothing at the amphitheater (July 9-18)
Silver Collector Car Show and Auction
65th Annual Teton County Fair (starts July 23)
August
Bikes, Brews & Baskets at the Jackson Hole Mountain Resort
Of course, there are also plenty of other activities that go on all summer long. If you like being on the water, you can go white water rafting down the famous Big Kahuna, take a leisurely float trip or go fishing. If terra firma is more your thing, you can explore Yellowstone and Grand Teton National Parks. Snow King Mountain is a full day of pure adrenaline. It boasts a bungee trampoline, a treetop adventure, alpine slide, mini golf, the Cowboy Coaster and bouldering (rock climbing). Want to explore the wild life? There are a number of different types of safaris you can go on — you can even sign up for an overnight one. Itching to know how it felt back in the Wild West? Well, the Double H Bar ranch can accommodate that little fantasy of yours by being part of its Teton Wagon Train, which is a four-day, three-night wagon train experience complete with a chuck wagon, a Pony Express delivery, an occasional Indian and a mountain man.
No trip to Jackson Hole is complete unless you go to the Million Dollar Cowboy Bar. What a fun night! I bellied up to the bar on one of their saddle barstools and grabbed a drink before dancing all night to one of their fabulous local bands. This bar is everything cowboy, from the nail-head tufted leather sofas and gnarly wood to the saloon chandeliers and lighted murals depicting the Wild West along the walls. Guaranteed, you will want to go every night you are in town.
If you have never ventured out west and it's on your bucket list, Jackson Hole has to be your first stop. Just be prepared — you will leave yearning to go back. Happy trails!
(Visited 58 times, 1 visits today)
Tags:
jackson hole
,
rodeo
,
summer
,
travel
,
vacation
Last modified: May 3, 2021