Within less than 2 weeks Urban Oasis Project raised $3000 from their farmers market customers to help those in need! And just two weekends ago, Food Not Bombs safely fed over 300 people with 15 volunteers. Urban Oasis Project together with Ashley Varela of (F)empower are connecting with the nearly 30 families, ensure they receive fresh local organic food and essentials on a weekly basis. Urban Oasis project has secured funds to provide a 100% match for EBT card holders.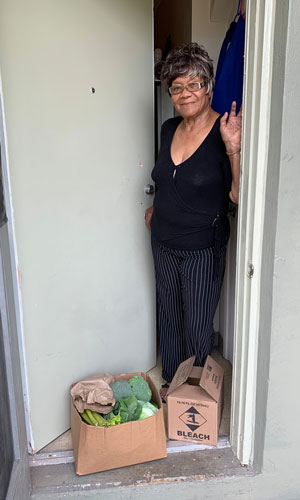 And, Urban Oasis project has set up a hotline in Spanish, Creole & English. That way those without computer access can more easily connect with Urban Oasis Project: 786-310-3250.
All of these initiatives fall under the umbrella called Urban Oasis Project's Food Justice Program in partnership with (F)empower, Food Not Bombs Miami & Finca Morada
"By using the words food justice we have the opportunity to bring awareness to our more privileged customers about the larger historical and ongoing issues of racism in the food system, and the ever increasing maginalized & exploited peoples pushed into poverty as a result of capitalism & systemic oppression," said North Miami resident Christina Bouza, coordinator of this effort for Urban Oasis Project. "Additionally food justice has a depth and legacy as a movement that we'd be both aligning with and inviting our community of customers to learn more about. And by always acknowledging our partners we recognize those who set the foundation for this work and who carry it out."
Urban Oasis Project has been growing the local food movement in Miami-Dade since 2008 by operating real locally sourced farmers markets, providing food justice education, hosting community farm to table dinners, and building food gardens in people's homes. Our mission is making fresh local food accessible & available to all.
When the Covid-19 pandemic shut down parks & economic activity in Miami-Dade, Urban Oasis Project was forced to shut down all of their physical farmers market locations at Legion Park, Arsht Center, Miami Gardens, Surfside & Viscaya Village.
Said Kendall resident Art Friedrich, founder and president Urban Oasis Project, "But we knew that more than ever, people need fresh local food to stay healthy and boost their immune systems AND we knew our farmers and local producers needed our support. So we moved our markets to a virtual online farmers market. The response was wild – so so many orders to keep up with! We're now offering pick up options from 3 locations and delivery as well. We even had to move to a larger warehouse in Allapattah."
While Art was busy fulfilling customer orders and transferring everything to the new platform and Operations Manager Chantelle Sookram was busy picking up all the local produce every week from South Florida farms to feed the people, and Community Outreach Coordinator, Christina Bouza, noticed quickly that the new online platform wasn't accessible to everyone. It left out a lot of people without computer access, or who were really struggling due to a variety of factors, perhaps as a result of Covid 19 or from preexisting struggles.
The Urban Oasis Project team knew they needed to reach and feed these people.
So they put out this call to their customers:
"We are working hard to connect to folks in most need right now. Read more about how you can help…We have partnered with @FoodNotBombsMiami @femPowermia & @FincaMorada to help us distribute healthy food to those in most need. If you are fortunate to feel stability right now, please consider the very different situation for many folks in our community from the homeless to even the now jobless servers, performers, cooks, from your favorite restaurant or bar.
If you have resources that you can spare, please lend a hand to your community. Donations can be made easily when you make your weekly online order thru our webstore. A $20 donation will provide a box of groceries to one person in need. A $100 donation will feed a whole family. A donation of any amount small or large is welcome & appreciated!
You can find both donation options under the Veggies category on our webstore at urbanoasisproject.org"
Within less than 2 weeks Urban Oasis Project raised $3000 from their farmers market customers to help those in need!
---
For more information about helping, please reach out to Christina Bouza, Urban Oasis Project Community Outreach Coordinator at fincamoradamiami@gmail.com
(Visited 77 times, 1 visits today)
Tags:
feed
,
food
,
help
,
homeless
Last modified: May 5, 2020