Recently opened, Top Round is bringing its famous chef-made roast beef sandwiches, burgers, chicken sandwiches and curly fries to Fort Lauderdale. Specializing in American classics with a modern twist, the popular fast-casual, family-friendly restaurant concept from Los Angeles offers an eclectic mix of classic favorites, locally-inspired recipes, vegetarian options and ice cream custard. Conveniently located in downtown Fort Lauderdale, Top Round opened at 35 N. Federal Highway.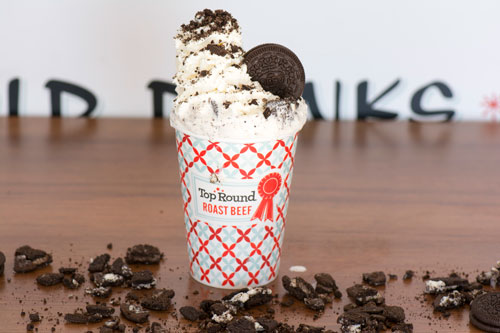 Top Round was founded by partners Jamie Tiampo, James Beard Winner; Executive Chef Steven Fretz; Chef Anthony Carron; Chef Noah Ellis; and Saukok Chu Tiampo. The group of all-star chefs and culinary executives was inspired by childhood memories of eating wholesome roast beef sandwiches in St. Louis and Buffalo. They envisioned a concept that could deliver these nostalgic handhelds with high quality ingredients and exceptional service in a fun and whimsical environment.
The Fort Lauderdale franchise will be owned and managed by David and Stacey Chesal, Fort Lauderdale locals and veterans of the restaurant and nightlife business. Having grown up in the restaurant business during the deli golden age, roast beef sandwiches were a staple during David's childhood. He identified a need for this concept in the South Florida market and decided to bring the brand home.
"After discovering Top Round while on a business trip to Los Angeles years ago, I fell in love with the food, the ambiance and the nostalgia of it all," says David Chesal, owner of Top Round Fort Lauderdale. "I was so drawn to the experience that I would seek out the restaurant every time I was in LA."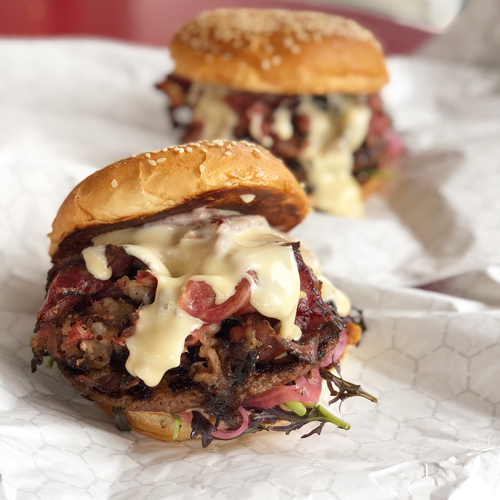 Roast Beef sandwiches include the Beef & Cheese ($8.29) with House Cheese "wizz" and round sauce; Bar-B-Cue ($7.99) with provel cheese, bar-b-cue sauce and fried pickles; Horse & Hole ($8.99) with roasted mushrooms, horseradish cream, provel cheese on a sesame bun, Beef on Weck ($7.99) with atomic horseradish, caraway & sea salt bun; and the OG Roast Beef ($7.59) topped with seasoning shake & au jus.
The Fort Lauderdale menu features exclusive menu items such as the Rockin' Shrimp ($9.99) with horseradish secret sauce; Almost Midnight ($8.99) the restaurant's twist on a Medianoche with mojo marinated pork, sliced ham, swiss, mayo, mustard and pickles; and Key Lime Pie Custard with graham cracker, coconut and whipped cream.
Top Round also offers more than just roast beef with items such as hand-breaded chicken sandwiches like the OG Chicken ($7.99) topped with pickles and mayo; and Chicken Cali ($8.99) made with ranch, lettuce, tomato, onion, avocado on a sesame bun. Indulge in burger options such as the Pastrami Burger ($8.99) with grilled pastrami, provel cheese, arugula, chef sauce and onions; Top Round "Melt" ($8.49) with provel and cheddar cheese, chef sauce, caramelized onions. The sides are not to be missed such as Cheese Tots ($3.99), Cauliflower Wings ($4.99) and the famous Curly Fries ($2.99).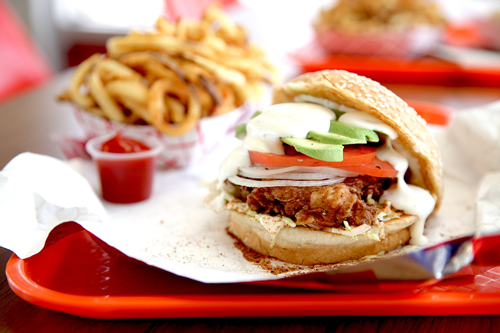 The restaurant's interiors are inspired by Southern California's googie architecture, a type of futurist architecture influenced by car culture, jets, the Space Age, and the Atomic Age. Featuring bright orange, red and sky blue decor, the retro design teleports guests back to a nostalgic 1960s' vision of the future.
The restaurant is open Monday through Sunday from 10:30 a.m. to 11:30 p.m. For more information visit https://eattopround.com/ or follow Top Round on Instagram at @Eattopround.
(Visited 115 times, 1 visits today)
Tags:
burger
,
classic
,
curly fries
,
roast beef
,
sandwich
Last modified: February 4, 2020