Miami native Lourdes Martinez has made a career out of her own stress relief.
The former real estate agent first found her calling to wellness when the market crash of 2007 sent her into massage therapy as a release from the daily stress of her business life. "I always say 'I walked into Massage Envy for a massage and I walked out with a franchise,'" she says, laughing. Three locations later, the wellness entrepreneur is now fixated on another way to bring alternative therapies to the masses with the opening of Pinecrest's Modern Acupuncture.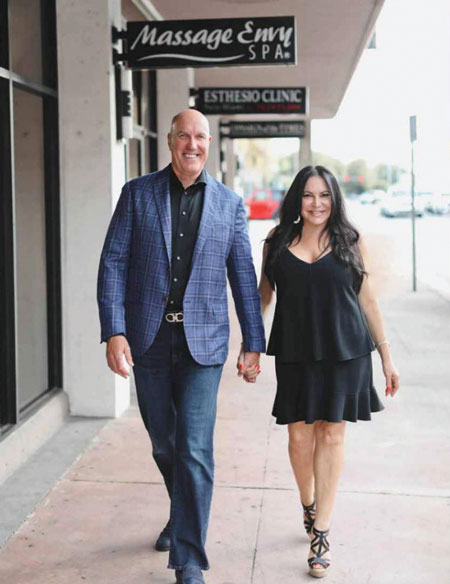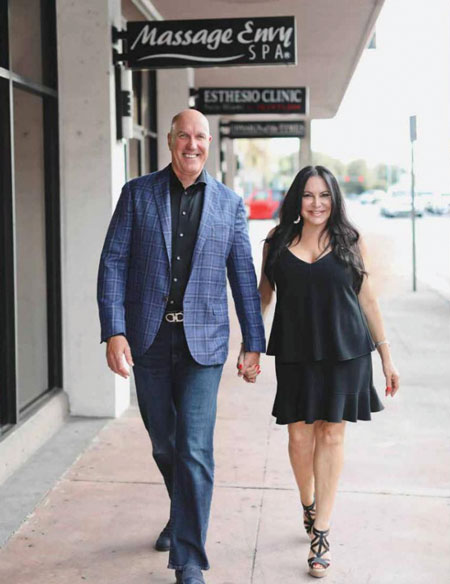 The venture, which sees Martinez partner once again with husband, former radio personality Bruce Wayne, also came about from her own experiences in the alternative wellness space. After a bike accident sent Martinez seeking pain relief free of surgery and pills, she found acupuncture and says she was cured within 12-15 sessions. "Fast forward a few years and I had a bad fall where I hurt my tailbone pretty severely. I went back to acupuncture and saw the same results," she says. "I felt less stressed, less anxiety. I slept incredibly deeply for the week after the sessions."
More convinced than ever that acupuncture would be a permanent part of her own wellness routine, Martinez's entrepreneurial brain kicked into high gear and Modern Acupuncture entered the picture. "We fell in love with the franchise, we knew it was going to be a huge success," she says of the company, which boasts 54 locations across the US, with 500-plus more under construction. "It was similar to Massage Envy in that it's affordable and convenient for everyone. We're bringing an alternative therapy to the mainstream market."
For those unfamiliar with the practice, acupuncture sessions consist of a licensed physician (all Modern Acupuncture practitioners have either a Masters or Doctorate in Chinese Medicine) utilizing tiny needles to access distinct points on the body that help restore balance, alleviate pain, reduce stress, promote relaxation and/or improve overall well-being. And it's in-demand. Within the first week of being open, the Pinecrest location saw more than 1,000 patients.
Part of the allure, says Martinez, is the ease of treatment. Visitors fill out a health-focused questionnaire before being led to a "Zen Lounge" where they consult with their primary care physician. At Modern Acupuncture, treatments take place in a spa-like, open setting complete with zero-gravity heated massage chairs and last under 30 minutes, after which patients are escorted out complete with hot tea to-go. No clothing is removed (save for rolling up sleeves and pant legs) as the practitioners work using distance acupuncture, placing needles in specific points that relate back to where the pain or issue originates. "We can treat everything from fertility and pregnancy issues to PTSD, insomnia, back pain, infertility, chronic pain, sleep Apnea, and migraines," says Martinez, who also notes that the treatments can have cosmetic benefits in the form of collagen production. "It's such an organic approach that you don't think it can heal you in the remarkable way that it does."
Plans are also designed to be inclusive, ranging from $189 for unlimited monthly visits (about $18/session) to $99 for walk-in treatments, with the first visit complementary.
Martinez says just as she was more than a decade ago, she's excited to educate the public on a wellness therapy that she feels a personal connection to. ""I believe in holistic healing and I believe in making people's lives better," she says. "It's education we provide and an opportunity to change the narrative so you don't have to depend on pills and your body can heal naturally. I just want to bring the best out of everyone."
---
Modern Acupunture is open 7 days/night and is located in the Whole Foods/Target Plaza at 7880 SW 104th St Suite A-105, Miami, FL 33156. Please call (305) 274-5747, or visit www.modernacupuncture.com/florida/miami/pinecrest-fl004 for more information.
(Visited 154 times, 1 visits today)
Tags:
acupuncture
,
health
,
massage envy
,
modern
,
therapy
,
wellness
Last modified: January 8, 2020