With the motto "Physical Therapy… the science of healing, the art of caring," Florida Occupational Healthcare takes pride in the treatment of patients on a medical and personal level. Open since 1998, FOHC's owner, Dr. Alex Pereda, has created a client-centered atmosphere dedicated to making a difference in the lives of those who visit his facility. Here are 10 things to know about FOHC.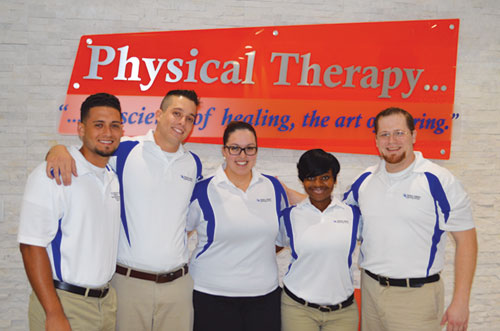 Dr. Pereda has firsthand experience as a patient.
After a spine fracture left him in the care of physical therapists, Dr. Pereda embarked on a second career as a physical therapist, receiving his Bachelors in Physical Therapy from FIU, a post-graduate doctorate degree from the University of St. Augustine and a certificate in Manual Therapy, a designation that only five percent of therapists nationwide possess.
He has special ties to the sports world.
Dr. Pereda has been involved in multiple little leagues and other local sports, including Tae Kwon Do. He has attended three Olympic Games and the 2013 Pan-American Games as Medical Staff and will return to the Olympics in Brazil in 2016.
He used his sports knowledge on a daily basis.
FOHC's extensive sports injury rehabilitation program is geared to athletes of all levels. With a program for tailored for post-surgical patients as well as athletes who are trying to avoid surgery, patient's treatment plans include a throwing regime, plyometrics, calisthenics, resistance training, and other aspects that are specific to the athlete's injury
FOHC works with patients of all ages.
Sport Specific Therapy is a specialization of the practice, including Pediatric Sports Injuries and the treatment of children ages 6-18. Children are often seen with sports injuries as well as orthopedic injuries including sprains. On the other end of the spectrum, FOHC offers a Senior Fitness Program geared to helping geriatric patients maintain functionality in their daily activities.
Dr. Pereda is a practitioner and teacher.
As a professor at many local schools and universities including Nova, Florida International University, and Miami-Dade College, Dr. Pereda teaches to "treat from your heart, not from your mind."
The facility is one of a kind.
FOHC houses a full gym with state-of-the-art equipment and more than 18 staff members.
All programs are personalized to the patient.
During a patient's first visit, they are evaluated by a Doctor of Physical Therapy (DPT). Special tests are performed to give an accurate confirmation of their diagnosis. The DPT will then go over the diagnosis, along with all signs and symptoms that they are experiencing. Patients are given a specific and individualized plan of care that is unique to each patient.
Treatment doesn't stop when the patient leaves.
In addition to a treatment plan, which can often include coming in to the clinic two-to-three times per week, patients are educated on exercises, stretches, and preventative measures that can be done at home to help the recovery process. During visits, patients can expect to be treated for an average of 45-60 minutes. "As a manual therapist, every patient receives hands on care," says Dr. Pereda
FOHC hours are flexible.
They cater to patient schedules, offering extra-long hours, FOHC is open from 6:00 am – 7:30 pm on weekdays and 6:30 am – 3:30 pm on Saturdays. They do not close for lunch.
They take most insurance plans.
FOHC is one of a few clinics that accepts all major insurance plans, and most others as well.  Although a prescription is required for treatment billed to insurance, FOHC does take self-pay patients as well.
FOHC has a well-established reputation for delivering outstanding physical therapy services and is dedicated to providing the best clinical care possible. It adheres to the highest ethical standards, and is committed to continuing professional development according to the latest research in our field. FOHC is located at 8585 Sunset Drive, Suite #103, Miami, Florida 33143. For more information, call 305.274.3311 or visit www.fohcpt.com.
(Visited 131 times, 1 visits today)
Last modified: July 22, 2015