For Sophie Symes, Gabi Brayer and Sabrina Ortega, lunchtime seemed like a prime opportunity to do more than just eat lunch.
The three friends, all fourth graders at Pinecrest Elementary, decided to channel their collective energy into a new venture that allowed them to give back and, unknowingly, sparked an entrepreneurial nerve among their fellow students and principal.
The concept was simple. "We decided we wanted to help homeless pets find homes, and to get donations of bedding, cleaning supplies, leashes, collars and toys," said Symes. In order to do so, the three went directly to Pinecrest Principal Marisol Diaz to gain her blessing in collecting donations on school grounds. She wholeheartedly embraced the idea. "I really applauded them for their creativity," said Diaz.
Impressed with their tenacity, and excited by the idea of young entrepreneurs in her school, Diaz decided to launch YEP—or Young Entrepreneurs of Pinecrest. The program (of which Symes, Brayer and Ortega are the designated "pioneers,") will challenge fourth and fifth grade students to apply with a business plan, of which Diaz will pick one to mentor throughout the year. "I want to help them take a project from beginning to end," she said.
The three pioneers are already working with her to do just that. Over the past three months, they've held weekly meetings with Diaz, where they discuss everything from gaining their parent's commitment, to speaking with shelters and pet stores as research and designing flyers to spur donations in their class. Along the way the team has worked through challenges such as expanding their donation base, spreading their message via multiple communication methods and practicing their public speaking. "I've really put the ownership on them," said Diaz.
Another person bitten by the entrepreneurial bug was Pinecrest fourth grade teacher Sabrina Abislaiman. After her students wrote tribute essays to the inventors of everyday items as part of their social studies course, Abislaiman decided to hosted a open forum inspired by the ABC show "Shark Tank," where businesses present their growth plans in the hopes of landing financial and advisory help, with her students. "The kids had such a great time learning about how these inventions were developed that I decided to take it a step further and have them use their problem-solving and creative-thinking skills to invent a new product or make improvements to an existing product," she said. "I first polled my class to find out if they were familiar with the show 'Shark Tank' and after receiving an overwhelming response of interest in the show decided to dive right into the project." Abislaiman's "sharks?" Parents from her class. "The parents and the students not only loved the entire experience, but have also begged for us to do it again," said Abislaiman.
Thanks in part to shows such as "Shark Tank," entrepreneurship has become a hot topic with students, leading to the creation of programs such as Diaz's YEP and the recently launched AlligatorZone, which held a January event in cooperation with the Pinecrest library. Launched in June 2014, AlligatorZone ("Where kids meet cool startups.") gives entrepreneurs a chance to introduce their startups to kids, teens and their families and gain feedback while inspiring the next generation of out-of-the-box thinkers. The January events saw two local startups meet with about 20 participants. Their next event is planned for April.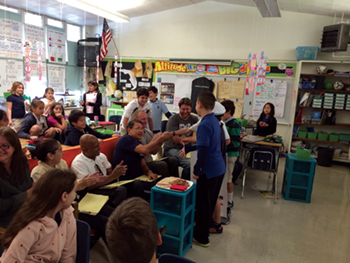 For Symes, Brayer and Ortega though, their pet-friendly initiative is already reaping rewards. "The most exciting part so far was seeing the shelter and taking our donations to them," said Symes. "It was great finding out other things we can do to help them help the animals.
(Visited 38 times, 1 visits today)
Last modified: April 27, 2015