Honoring the 60th Anniversary of Lamborghini; February 19, 2023 at The Miami Design District
Miami Concours, one of the country's most anticipated motoring events, returns to the Miami Design District for 2023 with its highly curated, distinctly modern celebration of automotive history. Displays debut on Friday, February 17th and the weekend culminates on Sunday, February 19th, with three red-carpeted streets, each featuring distinct Concours activations.
In its sixth year, the annual event showcases the most significant automobiles ever produced, exhibited in the heart of Miami, at the epicenter of art and design. Led by Co-Founders John Temerian Jr. of CURATED and Ronnie Vogel, alongside Partner Brett David of Prestige Imports, the acclaimed event has carved an inimitable niche, one at the intersection of automotive excellence, car-culture camaraderie and luxury lifestyle.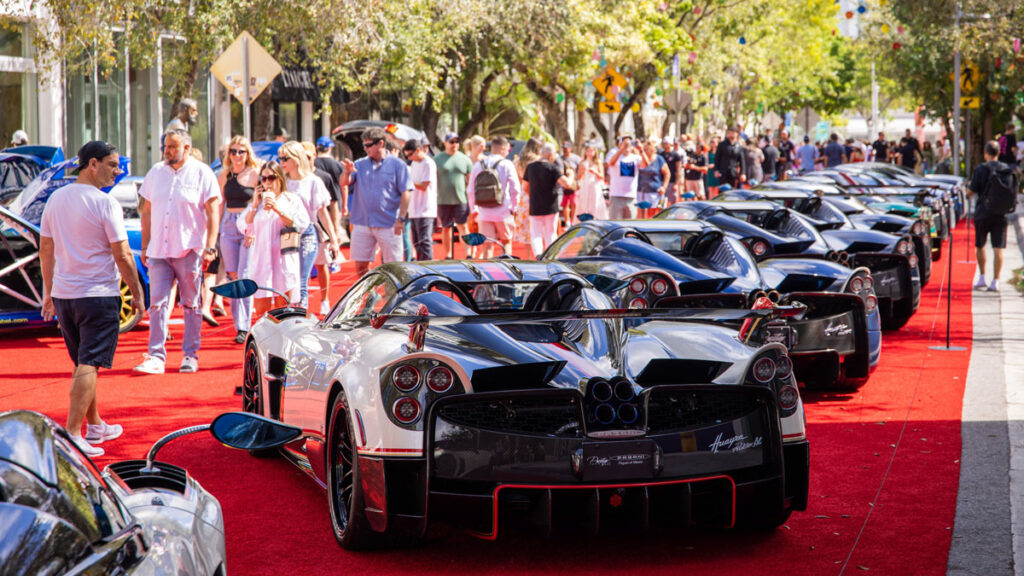 "We are immensely proud of Miami Concours, an automobile concours d'elegance built through our distinct lens, in the heart of our city," states Co-Founder John Temerian. Adds Partner Brett David, "The three of us are proud to once again bring some of the greatest cars in the world and some of the biggest names in the industry to a city we love, presenting our interpretation of a modern concours."
The renowned event features the most sought-after exotic post-war automobiles and celebrated, iconic models from the world's most recognizable luxury motoring brands. Friday, February 17th marks the start of the event, as Miami Concours presents a special showcase of cars, dotted among the neighborhood's artistic installations as static works of art themselves. In keeping with tradition, on Saturday night, the Miami Design District then rolls out the event's signature red carpets in preparation for the weekend's main attraction, taking place on Sunday.
The red carpet serves as a magnificent backdrop for the world-class, hand-picked automobiles, as collectors and enthusiasts witness real-time, official judging; explore an unmatched, historical display of Lamborghinis on 39th Street -a nod to the Italian manufacturer's 60th Anniversary; and discover an unforgettable display of Hypercars from Pagani Automobili as they celebrate their 25th Anniversary along with Czinger Vehicles, as they present the 3D printed 21C.
"Miami Concours is an incredible platform for luxury cars, presenting some of the most coveted rarities in automobile history. Each year, this weekend unites the community and devout car enthusiasts from all over the world for the shared appreciation of remarkable craftsmanship. I can't imagine a more fitting destination than the Miami Design District to host this spectacular weekend," says Craig Robins, President and CEO of Dacra.
With judging led by Mark Moskowitz MD (Board of Directors of Carolina Motorsports Park and Vice Chairman of the Board of Directors of The Motorsports Hall of Fame of America), Miami Concours showcases superlative examples from Aston Martin, Lamborghini, Ferrari, Pagani, Maserati, Jaguar, Ford, BMW, Bentley, Rolls Royce, Porsche and Mercedes-Benz.
(Visited 190 times, 1 visits today)
Tags:
design district
,
Lamborghini
,
miami
Last modified: February 20, 2023