Whether it's IV therapy, cryotherapy, ozone therapy or more, Zativa Life Health & Wellness has all the services you need to live your best life.
For Arturo Rodriguez, co-founder of Zativa Life Health & Wellness, your well-being is his business. And if the last five years are any indication, business is booming. What started as one med spa with a few staff members is now a full-fledged South Florida franchise with seven different locations to handle all your health and wellness needs. You'll find Zativa Life in South Miami, Sunny Isles Beach, Miami Lakes, Bird Road, Coral Gables, Wynwood and another one in Naples. In early 2023, locations will also be added in Aventura, Doral, Brickell and Broward County with a location in Oakland Park.
What's more, Rodriguez has changed his franchise model with a plan to take his business to the next level. "We started as a licensing agreement franchise model, but we now retained the law offices of Zarco Einhorn Salkowski to acquire the FDD (franchise disclosure documents) to expand nationally and internationally in 2023," he says. Las Vegas, New York and Philadelphia are all on his list as possible future locations.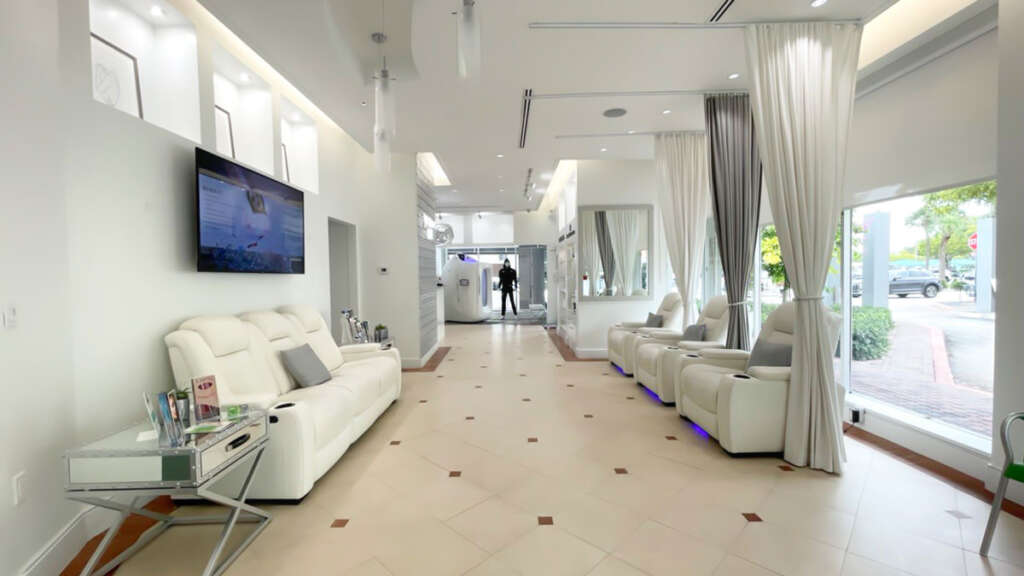 "I always wanted to do a franchise model, but I wanted a business where I could add more services and products and not have limitations," says Rodriguez. "When we first started, we had five services; and now we offer 15-plus different services at our med spas. If I try it out and it works, then I roll it out to my franchisees; and they can add it to their menu of offerings and increase their profits."
A Focus on the Customer
Part of the reason for Rodriguez's and Zativa Life's success, of course, is his focus on doing what is best for his customers. Rodriguez's professional background before co-founding Zativa Life Health & Wellness was as an owner of medical centers, so Zativa Life was a natural fit. Since the time the first location opened, he has put his focus on high-quality, medically researched and administered solutions. Zativa Life has a medical director and medical professionals on staff who are responsible for everything from placing IVs to administering boosters.
Multiple Offerings
One way that Rodriguez keeps his customers happy is by offering a wide variety of services, many more than you'll find from other health and wellness centers. One of his key offerings is IV vitamin therapy, which is a method of infusing nutrients directly into the bloodstream to ensure maximum absorption and availability. The benefits of the therapy can range from fighting off hangovers to strengthening the immune system to reducing headaches and muscle cramps, and many more. "They come with our brand name, so they're specifically formulated for Zativa Life," says Rodriguez. "Our signature Zativa Life has 60 ml of meds compared to others who offer much less."
Zativa Life also offers ozone therapy, a unique treatment with many benefits, including preventing illness and fighting the signs of aging. By adding ozone to the client's own blood, it becomes more oxygenated and can result in a strengthened immune system and better circulation and brain function, as well as detoxification of the lungs, heart and kidneys. "Our therapies may help many people recover after medical treatments," says Rodriguez. "For example, cancer patients sometimes come after chemo is done to help them get stronger and for their bodies to recover."
For Zativa Life's exclusive hormone replacement therapy, customers first have blood drawn and sent to a lab before results are reviewed and interpreted by Zativa Life's medical director. From there, clients are placed on a three-month plan aimed at correcting the imbalance and resulting in higher energy levels, better sleep quality, a reduction in anxiety and a lessening of arthritis, joint and muscle pain.
Of course, these are just a few of the highlights of the many products and services offered by Zativa Life. They also offer Botox injections, as well as a variety of home health and wellness products to choose from. Their different locations offer varying services, including body contouring, waxing services and much more.
A Growing Business
What started out five years ago as one med spa with just a handful of employees is now a health and wellness powerhouse across South Florida. Rodriguez only envisions more growth in the years ahead as more people realize the benefits of Zativa Life's treatments, as well as the commitment to customer service shared by his team of medical professionals.
"Anyone who is in pain, who might have an imbalance or who wants to feel like their best self, we can help them," says Rodriguez. "We can give your cells life again."
---
Zativa Life Health & Wellness has six locations throughout the Miami area and one in Naples, with four more opening in early 2023. Visit zativalifehw.com for more information or to schedule an appointment.
(Visited 97 times, 3 visits today)
Tags:
happy new year
,
miami
,
new year new you
,
zativa
Last modified: January 9, 2023