A $4.2 M Coral Gables home featured in the iconic '80s TV show Miami Vice hearkens back to Miami's Architectural Golden Age.
By Lisa Fox and Sonia Rifkind / Photos by Lenny Kagan
If you were around in the '80s and certainly if you were from Miami, you became an instant fan of the NBC show Miami Vice. Who could forget the first episode where Crockett and Tubbs are on their way to apprehend a suspect in a black Ferrari Daytona Spyder? The night is damp, and downtown Miami is on full display as the track "In the Air Tonight" by Phil Collins plays in the background. And just when you think things could not possibly get any cooler, the climactic drum break explodes — instantly becoming an anthem to an entire generation.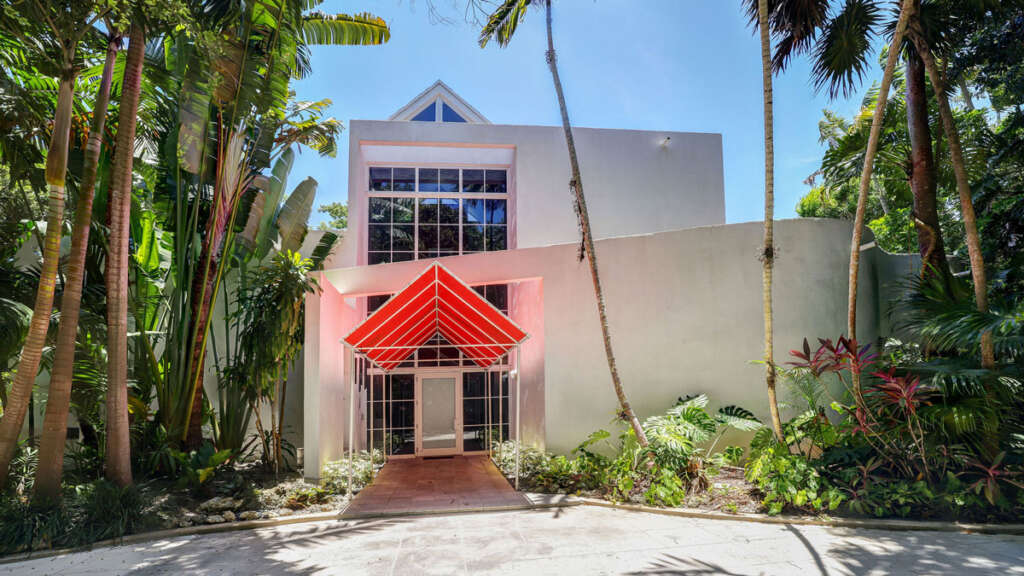 Miami Vice was a groundbreaking TV show not only for introducing never-before-seen stylistic elements — like playing the entire length of a song without interruption — but also for helping to solidify Miami as a cultural landmark. If you missed the original series, which premiered September 16, 1984, and lasted five seasons, you could probably stream it today and become a fan almost 40 years later.
The excitement around Miami Vice was probably, at least in part, responsible for spurring the wave of renovation which took place in Miami's Art Deco District. Around this time a new kind of Miami modern was also emerging — with brand-new homes incorporating aspects of the postwar era but with a fresh, new modernist bent. With eye-popping luxury homes being built, each deploying their own innovative and playful elements — the Magic City found its groove and started attracting an international following with buyers from everywhere flocking to Miami in search of style, excess and a place in the sun.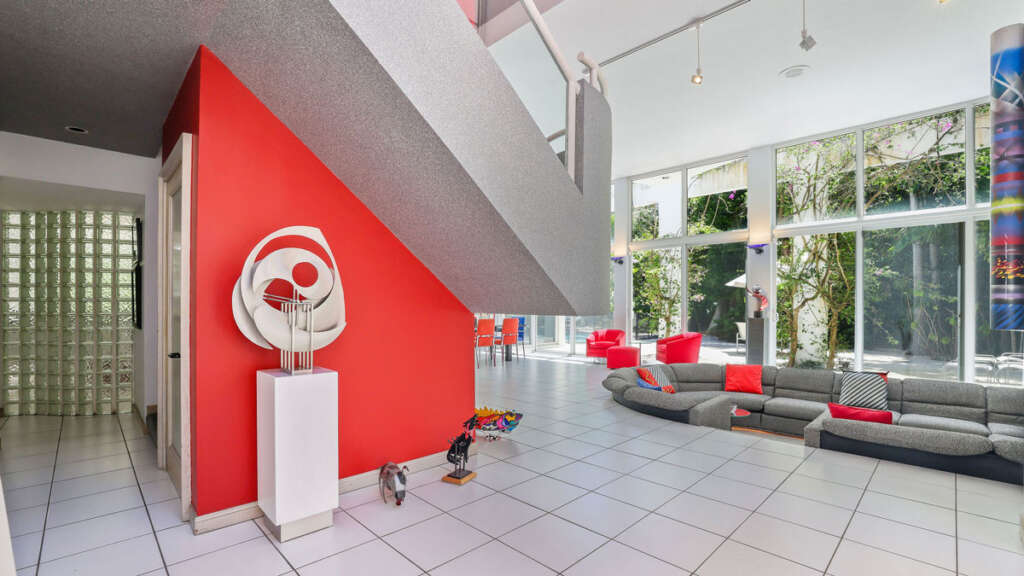 Local architects, influenced by Miami's art and culture scene, designed custom homes utilizing concepts like glass block, floor-to-ceiling glass and high ceilings. A fabulous example of these wonderfully woven design concepts featuring contemporary pop art and deco elements hit the market, masterfully marketed by Lisa Fox of Coldwell Banker Realty. This architectural marvel, once significantly featured in Miami Vice's "Deliver Us from Evil" episode in Season 4, is located in Hammock Lakes, a guard-gated community. The rare lush property of almost an acre has many native hammock and tropical trees. The dwelling has five bedrooms and six bathrooms, is 4,884 square feet and is located at 4994 Hammock Lake Drive. The property was listed for $4.2 million.
Some may say it's a time capsule; not much at all has changed inside this spectacular home since it was built. However, the original design by architect Alberto J. Otero, remains in vogue. Many of its cutting-edge components continue to be utilized today, such as its white contemporary exterior and wall-to-wall windows and doors. It has an open floor plan with high volume ceilings and a sprawling white kitchen.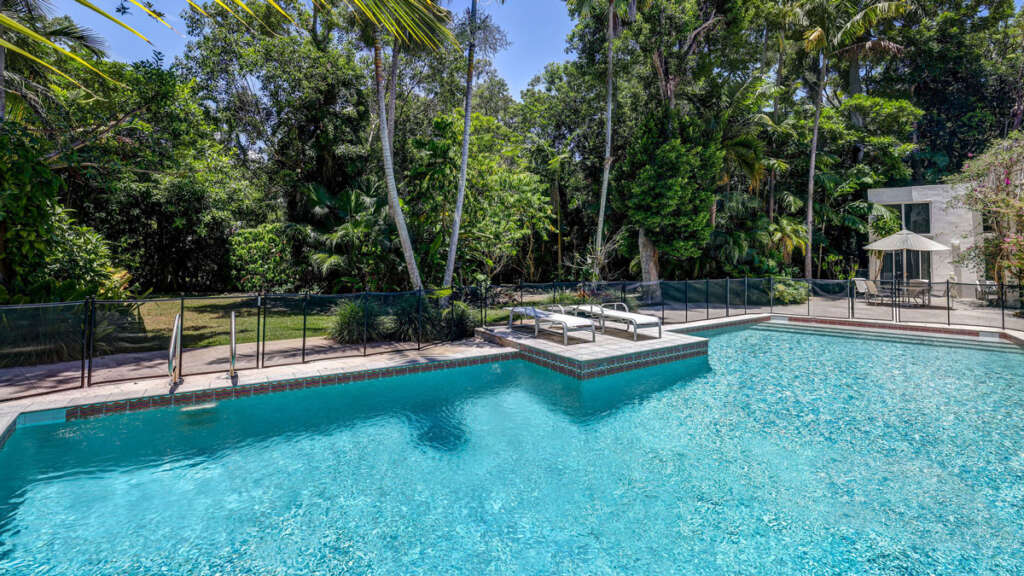 The home has a neutral palette of white and gray tones with fun primary red accents used sparingly throughout, such as in the spiral staircase ­— perhaps echoing that of the Atlantis condo in Brickell, used in Miami Vice's opening reel of the season. The master bathroom has a bright red bathtub and red faucets and red canned lighting. The downstairs barstools have bright red seats, contrasting nicely with the stainless-steel '50s-style bar top surrounded by windows looking out to the pool and patio area.
The dwelling has three stories, including a third-level open concept master suite with glass block shower, his and her closets and an expansive circular balcony overlooking the outstanding landscape. A surprise office-loft, part of the master suite, overlooks the bedroom with more outstanding tropical views to the outside. The majority of the windows were replaced with hurricane impact glass. The original glass block remains intact and is an iconic focal point in the few places it is utilized. This is truly a remarkable property garnering significant interest and set to close early this month.
---
Lisa Fox has been a top-tier Realtor in Miami for 20 years. She has a proven track record of consistently helping buyers and sellers achieve their real estate dreams. Lisa combines the instincts of a pro with a genuine love of Miami making every negotiation a win-win. Call her today to discuss your next move at 305.345.8153 or email Lisa@LisaFox.com. Follow on Facebook or Instagram @Lisa_Fox_Realtor – Lisa Fox, Realtor | Coldwell Banker Realty.
(Visited 219 times, 1 visits today)
Tags:
Coral Gables
,
home
,
miami
,
miami vice
,
real estate
,
realtor
Last modified: September 12, 2022