whisperingmanes.org
Instagram: @whispering_manes / Facebook and Twitter: @whisperingmanes
Background
Founded in 2011, Whispering Manes Therapeutic Riding Center provides equine-assisted activities to children and adults with disabilities. The center moved and expanded to a five-acre property in 2015, complete with a custom-designed, ADA-compliant barn and covered riding area.
Helen Picard joined Whispering Manes in August 2021 as executive director. She was on the board of directors for seven years prior to taking this role. "Whispering Manes is a community resource for those individuals that need our help," says Picard. "We are a bit of a hidden gem in horse country."
The Programs
At present, Whispering Manes serves up to 90 participants per week ranging in age from 5 to over 70 years old. Over 150 people enroll in their equine-assisted activities program annually, including current and former members of the armed services, participants from multiple local special education and Miami-Dade public schools, the Down Syndrome Association of Miami, the Miami Cerebral Palsy Residences and private individuals.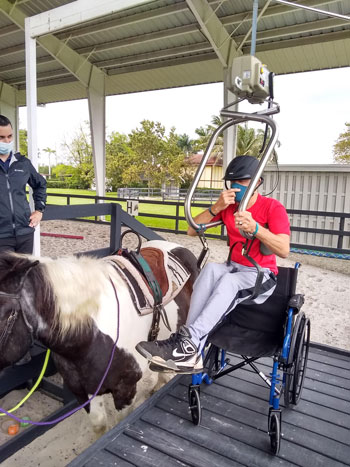 This year, Whispering Manes launched a Manes and Tales equine-assisted literacy program for struggling readers of all ages. Manes and Tales is an experiential reading program that encourages students to develop and improve their literacy skills through a variety of exercises and interactions with mini horses. Next year, the center plans to launch more new programs to bring their "horse-power" to more individuals with varying needs in the community.
The Rewards
Although animal therapy has been in use for many years, increasingly horses are becoming the most popular animal for these programs because they give immediate feedback to the instructor and the rider. Horses are keen observers and are vigilant and sensitive to movement and emotion. They often mirror an individual's behavior or emotions, conveying understanding and connection that allows the person working with them to feel safe.
The staff at Whispering Manes gets a great sense of accomplishment seeing participants go through their individual journeys. From the moment they arrive at the barn through their initial contact with the horses to seeing them advance in their abilities is extremely rewarding. Their students' needs and pace of progress are very individual, but what they all share is a sense of purpose and a desire to make the most out of their experience at Whispering Manes.
"That is what motivates me and my staff," says Picard. "We feel that we are doing our job when we see smiles on the kids' faces or witness adults become more confident and open through their interactions with our horses."
Get Involved
Whispering Manes relies heavily on a group of more than 140 dedicated volunteers who serve as horse handlers, class helpers and stable hands. They provide comprehensive training to all volunteers to ensure they are comfortable in their assignments. Volunteers must be at least 14 years old, and training sessions are held throughout the year. If you're interested in volunteering, you can schedule an orientation at whisperingmanes.org/get-involved/volunteer-orientation or email them at volunteer@whisperingmanes.org for more information.
The center also depends on the generosity of donors to keep their programming affordable for families who most need it. If you are interested in helping, they have many opportunities, from sponsoring a child for summer camp to adopting one of their specially trained horses. Visit their website at whisperingmanes.org to help continue their mission.
(Visited 247 times, 1 visits today)
Tags:
the philanthropist
Last modified: January 10, 2022