After a challenging academic year, it's time to head back to the classroom. Here are a few ways to help your children prepare for success — both mentally and physically.
Children are heading back to school this month, and parents — as well as their children — are often concerned about what's to come. If you're wondering how to tackle the long list of things that comes with this eventful season, consider setting goals to ensure you have a successful year.
Whether they strive to read their very first chapter book independently, get good grades, join a new sports team or simply get to class on time every day, goal setting is a great way to inspire children to try new things, maintain a positive mindset and teach them independence. The process of setting goals motivates children to strive for success and achieving them gives children a sense of accomplishment. Soon, you'll see that your children are doing things for their own personal satisfaction — and not to please others.
Goal Setting 101
First, sit down together and discuss what it means to set goals. Explain to your children that while some goals are easily attainable, others may take a lot of time and hard work to accomplish. You may also want to break down large goals into smaller chunks, so children don't feel overwhelmed.
Here are a few steps to get you started:
Talk about your child's intentions.
Identify which goals he or she wants to achieve.
Make a list in order of priority.
Come up with a strategy or list of steps to take.
Set time limits (short- and long-term goals).
Post the goals up on the wall to have a visual reminder.
Support your child along the way.
Establish a reward system (if applicable).
Celebrate making their intentions a reality.
By brainstorming together and coming up with realistic goals, your child will have something to look forward to and will be excited to kick off the school year.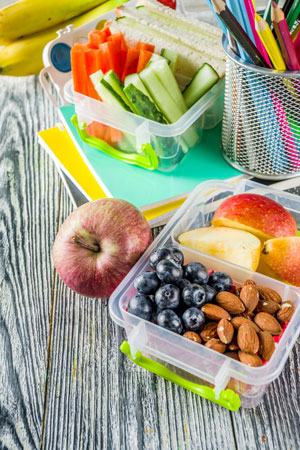 Keeping Kids Healthy in the Midst of a Pandemic
While goal setting is great for mental health, there are many ways to also maintain good physical health. Just when we were starting to breathe a sigh of relief that the worst of the pandemic was behind us — and the return to "normalcy" seemed to be within reach — the number of COVID-19 cases has risen again, and the Delta variant seems to be spreading rapidly.
As you help your child prepare for the upcoming school year, there are some steps you can take to ensure their overall well-being. Good nutrition is a primary factor that can affect a child's immune response. According to the Mayo Clinic, there are core components that should be part of a healthy, balanced diet. These include fruits and vegetables (the deeper the color, the better); lean protein such as chicken, turkey, fish, eggs and plant-based products; fat-free and low-fat dairy like milk and yogurt; and whole grains such as oatmeal and whole wheat bread.
It's also suggested that you limit foods with added sugars, such as corn syrup, honey and brown sugar. Pay attention to nutrition labels because many products have added sugars and contain artificial ingredients. For instance, many fruit juices are high in sugar, so it's best to opt for fresh fruits as a snack or to accompany a meal.
Of course, regular physical activity is important. Not only does increased fitness help make children more resistant to disease, but it also improves their focus, boosts self-esteem, lowers body fat and strengthens bones. Make exercise a priority and find fun family activities that everyone can participate in to help keep the whole family healthy. Go for a bike ride together, swim a few laps in the pool, play ball in the park, explore new hiking opportunities or go for a walk around your neighborhood.
When it comes to boosting your immunity, Nicklaus Children's Hospital shared a list of nutrients on their Parents Connect Blog to keep you strong and healthy. These include:
Beta carotene (which converts to vitamin A in your body)
Vitamin C
Vitamin E
Zinc
Probiotics
While there are many factors involved in keeping kids healthy, these are some basic steps you can take to ensure a strong foundation — and help put your mind at ease.
(Visited 17 times, 1 visits today)
Tags:
back to school
,
pandemic
,
school
Last modified: August 15, 2021