OpusCare of Florida, which provides hospice and palliative care services for the community, recently celebrated the groundbreaking ceremony for its new freestanding inpatient care unit in the Village of Palmetto Bay, Miami-Dade County.
With its quality of life, active adult communities, warm weather and so much more, the Sunshine State continues to attract seniors who want to enjoy an active lifestyle well into their golden years. But the significant number of older adults also poses some challenges to our state. It's estimated that the population of older adults living within Miami-Dade County will double in population by 2040. As people 65 years and older enjoy life in South Florida, our health care providers must also adjust to the needs of the senior population.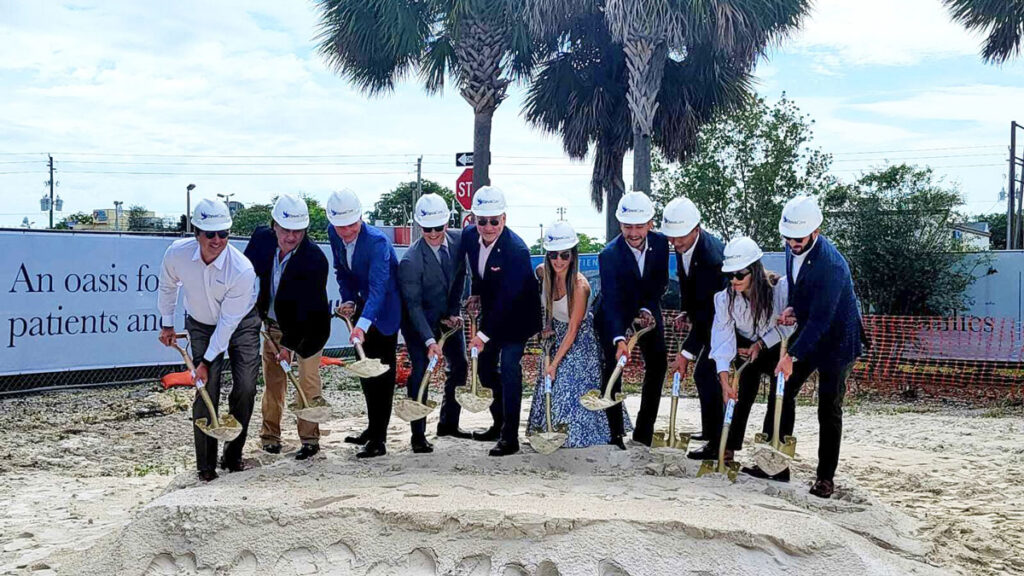 Fortunately, OpusCare of Florida is improving how patients receive hospice services by opening Miami-Dade County's first freestanding inpatient hospice unit. This will allow them to serve the older, more vulnerable population in our local community.
OpusCare of Florida has been serving our community since 1991. What began as a small business providing end-of-life care services to a small number of patients now services over 1,000 patients across two states and four cities. OpusCare is the first hospice care organization in South Florida to include palliative care services as part of its program. The addition of palliative care services helps patients easily transition from palliative to hospice care when they are ready to stop receiving aggressive or curative treatment, helping bridge the gap in the care continuum.
What Sets OpusCare Apart
OpusCare uses a unique approach to care where the quality of care and services are the greatest priority. As a family-owned and -operated business, its mission is to ensure they foster the same familial culture with their employees as well as the patients they care for and their families. They also strive to educate the communities about the benefits of their programs and how they can provide an extra level of support during this challenging stage of life.
The company's primary mission is to provide excellence in palliative and hospice care services using a unique and innovative approach, creating a custom plan of care for everyone that best reflects the needs of the patient and their family. This starts with an initial assessment with the patient's hospice team and the primary care physician to ensure the patient isn't taking any unnecessary medication to ensure optimal quality of life, eliminating adverse reactions and designing a customized plan of care for the patient and family.
Introducing OpusCare's Palmetto Bay Location
OpusCare, which also operates in the Texas communities of San Antonio, Corpus Christi and the Rio Grande Valley, chose the Village of Palmetto Bay for building their new location because it allows the company to better connect with the South Florida community and provide higher-quality care.
"As the fastest-growing hospice and palliative care organization in South Florida, this new facility helps us continue to expand our footprint across our community," said Nicolas Roque, OpusCare's administrator and chief compliance officer, who has been overseeing the application process for this new facility.
With 13 private suites, the building makes it easier for OpusCare's specialized staff to provide hospice care services to patients and their families in a comfortable, home-like setting when they need it most. In addition to the private suites, the new location will also include a meditation garden, chapel and technology-driven areas for counseling, spiritual and bereavement services.
Anticipating Future Care Needs
The innovative facility, designed by architecture firm Candela and Partners and built by CamCon, anticipates the growing demand for hospice care in Miami-Dade County. The demographics continue to shift to an older population here in South Florida, and OpusCare is readily working towards meeting the needs of the community's senior members.
In fact, OpusCare's new units extend and enhance the quality of care that terminally ill patients receive within the community. "In September of 2017, we began our search for an ideal location for our freestanding hospice unit to serve South Florida's aging population better," said President and CEO of OpusCare of Florida, Dr. Ismael Roque-Velasco. "We are pleased to know that this contemporary and state-of-the-art facility will provide hospice and palliative care to patients facing end-of-life in a comfortable environment outside of a hospital setting, as well as respite care and support for their families," he added.
---
OpusCare of Florida's new freestanding hospice care facility will be located at 9730 E. Fern Street in the Village of Palmetto Bay. Visit opuscare.org/south-florida or call 305.591.1606 for more information.
(Visited 68 times, 1 visits today)
Tags:
opuscare
,
senior care
,
senior health
Last modified: May 31, 2021