FOX SPORTS SUPPORTS, the community impact arm of FOX Sports, today announced the inaugural donation from its newly-formed "Gamechanger Fund" to the Hank Kline Club of the Boys & Girls Clubs of Miami-Dade.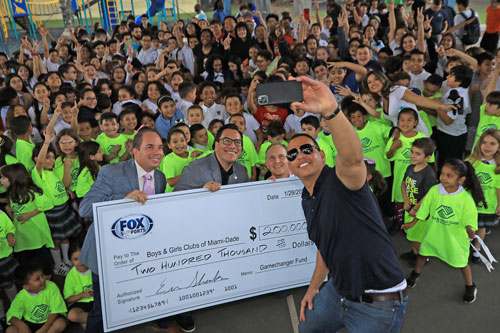 To present the $200,000 contribution, FOX MLB Studio Analyst Alex Rodriguez, a Miami-Dade Boys & Girls Clubs Board Member, visited the club he attended during his youth in Coconut Grove, along with Eric Shanks, Chief Executive Officer & Executive Producer, FOX Sports, and Adrian Garcia-Marquez, NFL Announcer, FOX Deportes. Shanks and Garcia-Marquez also grew up in the Boys & Girls Clubs. The contribution was received by Alejandro Rodriguez-Roig, President of the Boys & Girls Clubs of Miami-Dade.
"The Boys & Girls Clubs could not have played a more important role in my development as both an athlete and a person," said Rodriguez. "I'm very grateful that FOX Sports is supporting the organization and investing in the club I attended as a child, and the futures of the kids here today."
The Gamechanger Fund, which is proudly supported by both FOX Sports and its parent company, Fox Corporation, is part of a lasting community commitment ahead of Sunday's Super Bowl LIV on FOX. The Fund will provide AV equipment and education space for the club's youth to explore future careers in television, digital and social media production. Club members will also be connected with FOX Sports employees and productions around the country for ongoing extracurricular learning and mentorship opportunities.
"I wouldn't be where I am today if it were not for the Boys & Girls Clubs," said Shanks, who also serves as the organization's Pacific Region Chair. "Everyone at FOX Sports hopes the Gamechanger Fund will help to inspire the next generation and that one or more of these girls or boys is producing the Super Bowl someday."
This project is rooted in FOX Sports Supports' belief that increasing youths' exposure to sports, in both on-the-field athletic pursuits and off-the-field professional ones, can deepen their connection to the game and become a driving force of change in their lives.
(Visited 91 times, 1 visits today)
Tags:
Alex Rodriguez
,
ARod
,
boys & girls club
,
FOX Sports
,
Super Bowl LIV
Last modified: February 1, 2020