Chef Niven Patel, a James Beard award finalist for his popular and highly-rated Indian restaurant Ghee, has announced the opening of his second restaurant concept, Erba. The Italian-inspired restaurant, which will feature house made pastas, fresh salads, a rotating antipasti selection and a variety of entrees, will be opening October 1st. Located next to Ghee at Downtown Dadeland, Patel and Executive Chef Tim Piazza will be serving dinner five days a week from Tuesday through Saturday.
"I was inspired by what I love: good, simple pasta," said Patel. "I wanted to create a place where we could serve the freshest Italian-dishes and still make it approachable and affordable."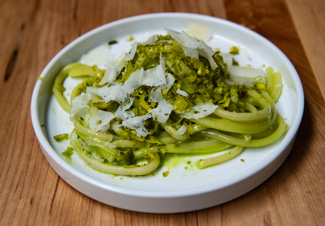 All of the ingredients will be responsibly sourced, with most vegetables coming from Patel's own Homestead farm. The menu will be constantly evolving, changing with the seasons.
"I have always been drawn to the craft of making fresh pasta," said Piazza. "At Erba, we will showcase our pasta with in-season ingredients, without overcomplicating it or making it pretentious. I cook how I like to eat."
At the top of the menu, guests will find a variety of salads, antipasti and oven-cooked items. Those include house made focaccia with Calabrian chilies and rosemary, artichoke and mushroom salad, plus Bianca eggplant straight from the farm marinated with the highest-quality olive oil and balsamic vinegar. Pastas are next on the menu with between six and eight options available daily—all featuring locally sourced, in-season ingredients like tortellini with wagyu beef and brodo broth and pasta al limonewith shaved pistachio over top. There will also be a rotating variety of proteins including branzino, organic half-chicken and lamb—all created with Italian herbs.
Appetizers are all under $14, pastas range from $14 to $18 and entrees start in the high-$20s. Erba will also offer a selection of fine Italian wines—all of them either organic or sustainably farmed in Italy. Glasses start at $10 and bottles start at $40.
Erba will temporarily be located right next to Ghee at 8975 SW 72nd Place, before eventually moving into its permanent home—also on the same street. Reservations are now available through Open Table or by calling 305-395-6365.
"We were ready to bring the flavors of Erba to the Miami community in advance of moving into our permanent home in Downtown Dadeland," added Patel. "Chef Tim and I are very much in harmony in the kitchen and we are excited about serving up our unique take on classic Italian."
Patel has been an integral part of creating a chef-driven dining destination at Downtown Dadeland in Kendall. Ghee opened in 2017 to rave reviews and continues to serve lunch and dinner daily.
"Erba will emulate Ghee's warm and hospitable atmosphere, but with a refreshing approach to Italian inspired cuisine," said restaurant manager Diana Garcia. "From the moment you're welcomed at the front door, to the energy in the dining room, I want guests to feel at home, yet excited to experience what Erba has to offer."
(Visited 114 times, 1 visits today)
Tags:
downtown dadeland
,
fare 305
,
pasta
,
rest
Last modified: September 29, 2019