For the staff of Miami Acura, it's all about performance. The dealership, which boasts the designation of being the number one Acura seller in the region, is focused not only on the performance of its sales and service team, but on the performance of its vehicles as well.
"Acura has gone back to its performance roots," says Debra Canter, general manager of Miami Acura. "People look to Acura for longevity; it's style and performance. These cars are luxurious but they're also fast and nimble. For our customers it's about what's going to handle well, drive smooth and last."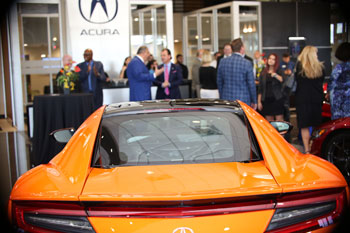 At the center of Acura's new offerings is the RDX, which Canter says has "outperformed anything that we had expected." Centered around a touchpad infotainment system, Canter says the RDX's intuitive controls allow drivers to focus solely on the road. "You can control everything including the ride of the car, the temperature, the music," she says. "It's very natural, so you don't have to take your eyes off the road to try and reach a knob."
Also new to the dealership is an upgraded showroom that has doubled in size and added three customer lounges: one for working, a quiet room for reading and another equipped with TV, coffee and snacks. The space also went completely green, outfitted with LED lighting and green-friendly air conditioning, water fountains and bathrooms. "Everything is now handicapped-accessible as well," says Canter, who notes that even the service desks have cut-ins to allow accessibility for filling out paperwork.
Beyond the physical, selling has also undergone a major change over the past decade, says Canter, who has been in the car business since 1978. Canter approximates that more than 60 percent of buyers visit Miami Acura online before they even set foot inside the dealership. "Most buyers come in with the info they need to have a general idea of 'This is the car I like and this is what I want to pay,'" says Canter. "But a lot will find out that the vehicle they chose doesn't always fit what they need when they drive it. We become more consultants than negotiators."
To Canter and her team that means heavy product training; putting salespeople behind the wheel so that they truly can speak to what the vehicle can do. But, in the end, it's all about the consumer. "I can sit in my living room and say 'I really want to be at $500 per month and put $2,500 down.' I can come up with the short list of products. But I still have to go in and try it out," says Canter. "You have to physically get in a car and look at how your eyes see the dashboard; how intuitive it is to you. There's still that 20 percent of you that has to be sure it fits."
On the community side, Miami Acura has teamed up with local and national organizations to support causes they believe in via a percentage of sales in varying promotions. Two that are close to Canter's heart are K-9s for Warriors, a Florida organization that rescues and trains shelter dogs then pairs them with a veteran suffering with PTSD with amazing results, and local organization BRCA Strong, which helps guide women who test positive for the BRCA gene on their options post-testing.
Canter also sees positive community relations in the form of employee retention, noting that when customers come back they are thrilled to deal with the same faces over and over, building relationships and not just sales. "It transcends good service, or it seems to for us," says Canter. "We've done really well in Palmetto Bay. I love this market."
---
You can visit Miami Acura at 16601 S Dixie Hwy, Palmetto Bay, FL 33157. For more information, call 877-782-8597, or visit miamiacura.com.