Have you ever wanted to learn to cook in Italy, to participate in Tuscan cooking classes? And return home with recipes handed down over generations and collected by us since 2000? Each spring and fall, Coleen Kirnan and Rhonda Vilardo welcome guests from around the world to live, breath and cook as Italians do. Taking advantage of our years of business experience and knowledge, as master event planners, we create an insider's Tuscan itinerary filled friendly, knowledgeable tour guides, translators, drivers and private cooking classes that only a local resident could access.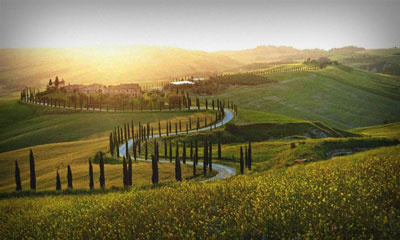 Indulge yourself in the Tuscan lifestyle and discover the region's passion for food and wine in a small group of 18 people or less. The best cooks in all of Tuscany, the local women, or "nonnas," teach our classes. They'll share regional techniques, ingredients, and family recipes that have been passed down over the centuries. Put on your apron, gather around the old farmhouse table, get wrist-deep in pasta dough and learn Tuscan cooking from the source. You'll learn first-hand how to make gnocchi, tagliatelli, and pici— thick strings of handmade eggless pasta made originally in Montefollonico.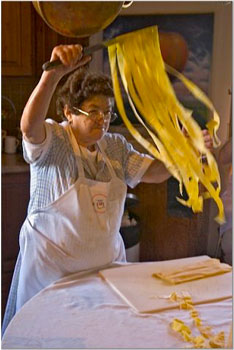 Your week with Tuscan Women Cook includes six night's accommodation at Agriturismo Belagaggio, a restored farmhouse in Montefollonico, breakfast, lunch, and dinner every day, cooking classes, daily sightseeing, visits to local artisans, cheese and wine tastings. Full day sight- seeing in Siena with a private guide who has a doctorate in Sienese history. Full translation is provided at all classes. Transportation to all activities is in a Mercedes minibus with private driver.
For wine lovers, Tuscan Women Cook is situated in the heart of Brunello de Montalcino and Vino Nobile di Montepulciano country, and border on the Chianti wine region. This is the center of the new Italian wine renaissance and a dream locale for your next getaway with family and friends. Wine connoisseurs plan the ultimate Bucket List trip here to sample new wines and visit the spectacular vineyards. Tuscan Women Cook hosts will provide you with exclusive introductions to renowned Tuscan vintners and opportunities to purchase their award-winning wines for their personal cellars.
---
To learn more about Tuscan Women Cook and view beautiful photos and videos, visit www.TuscanWomenCook.com.
(Visited 86 times, 1 visits today)
Last modified: March 7, 2019