"The Art Plug" has managed to turn Art Palm Beach 2018 on its head by curating four interactive spaces that takes on a non-traditional approach to a traditional art fair. From vandalizing art to blow up dolls to giant pills to spying on others on surveillance cameras, fairgoers were hit with a multi-sensory experience throughout the attractions. Engaging with the patrons was the main purpose of the collaborative installation, developed by trending artists from around the world including CB Hoyo, John Paul Fauves, Shawn Kolodny, AholSniffsGlue, DetroitWick, and Black Crow Studios.
"Coming from Miami, I've always embraced culture and diversity. It's important to express yourself and to get your a message across. Art is a great outlet for this: you can create a meaning out of no meaning. Art can evoke a feeling and get people in different moods. This is why I chose a diverse group of talented artists in "Mood Swings". The viewer can feel different emotions, like mood swings, as they view the works on display." – Marcel Katz
The four components to the fair that Katz curated included "Mood Swings", a 2,400 sq. ft. attraction in the new Uninhibited Urban Art Pavilion featuring works by over 30 artists including Banksy, Martin Whatson, and Mr. Brainwash. "Fake Fulfillment Center" an immersive art exhibit by Shawn Kolodny that confronts the reality of modern addiction in a manner that is both social and playful while remaining thoughtful at the fair's largest installation at 3000 sq. ft.. "Raise The Caliber" an anti-gun violence exhibit by artists DetroitWick and Black Crow Studios to raise awareness with 501(c)(3) nonprofit Caliber Foundation®. "These Are Not Photos" a hyperrealism booth exhibiting hand-drawn works that are often mistaken for photographs by Arinze Stanley and Ayo Filade.
Marcel Katz believes that these artists are the future. There has been a major gap in the a market when it comes to connecting independent, under the radar artists with young, hip art collectors. Many of the artists on the rise are never discovered by the right collectors, and many of the collectors don't know where to look for unique art. Marcel Katz connects collectors and brands with trendsetting artists, both on the rise and established.
Katz comments, "I recognize my major asset is being able to find incredible art and incredible clientele. There are a lot of independent artists that don't have resources or connections to take their work to the next level on their own yet, and I can make it happen for them with my resources.
In addition to finding talented, independent artists, Marcel Katz has an extensive inventory and access to "blue chip" art, or art that is expected to reliably increase in economic value, regardless of the general economic conditions. His roster now exceeds 50+ artists, including big names like Andy Warhol, Jean-Michel Basquiat, and Keith Haring.
---
Background on Marcel Katz: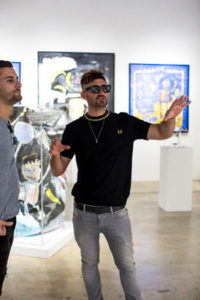 Miami native Marcel Katz is an art dealer and art agent, whose curated art gallery showcases available works from artists of all levels of fame and notoriety.
Katz started in the nightlife business as the creative director for the Opium Group, one of Miami's most premiere entertainment hospitality group of its time, with over a decade of experience. It was in this position where he found a niche for discovering and marketing cool art, which he would implement into many of these events. As Creative Director, Katz began incorporating the art aspects into nightlife at the collaborating venues. Doing so was very influential in the careers of these artists and soon enough, Katz had morphed into their agent. He started Marcel Katz Art, an established and independent art dealing and artist agency, in 2015.
In addition to helping independent artists break into the art world, Katz has often been the connector between them and today's popular culture. Nicknamed "The Art Plug", his creative marketing efforts and eye for predicting the success of artists and trends has attracted a younger generation of art collectors and admirers as well as celebrities. Katz has access to works from over 50 artists including Andy Warhol, Keith Haring, Takashi Murakami, Mr. Brainwash, Jeff Koons, Robert Indiana, Aholsniffsglue, CB Hoyo, Mister E, DetroitWick, and John Paul Fauves.
Katz has collaborated other creatives in the entertainment industry, including D'Angelo Russell, Lil' Wayne, Meyhem Lauren, DRAM, Miley Cyrus, Jermaine Dupree. Most recently, Katz facilitated a collaboration between Aholsniffsglue and Adidas on a targeted marketing campaign in Miami with street art culture.
For Miami Art Week 2017, Katz participated at SCOPE Miami Beach with Nigerian hyperrealism artists Arinze Stanley and Ayo Filade. He also curated a sold out group show titled "Mood Swings" featuring 20+ influential, trendsetting artists, both local and international, at Oliver Cole Gallery. The show featured activation room Raise The Caliber, where artists DetroitWick and Black Crow Studios transform SHREDS®, pieces of guns that remain after they've been voluntarily turned in through gun buyback and amnesty programs or seized from crime scenes from across America, into something beautiful by encasing them in solid lucite and capturing them through photography. Percentage of proceeds from each sale were donated to 501(c)(3) nonprofit Caliber Foundation®.
Please visit marcelkatz.net for more information.