By Vanessa Molina Santamaria // photos: Zak Mann
Christina V. Diaz, the new principal at Howard Drive Elementary, and Elena Tanner, assistant principal, share some insights about what makes Howard Drive Elementary such a special place for South Florida's students.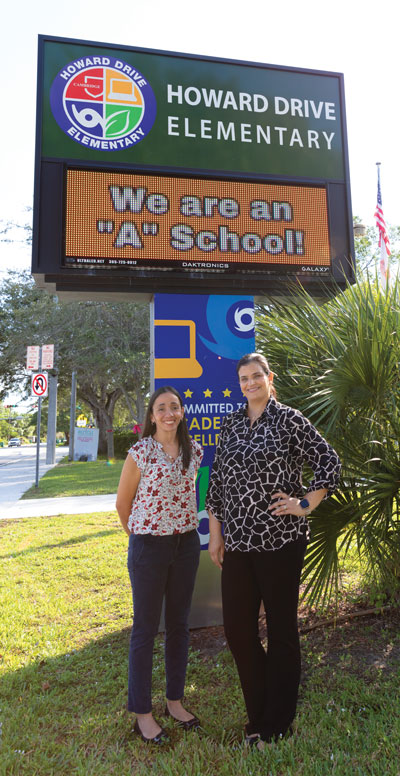 Elementary school can be a challenging time for both students and their parents, and the last two years have only enhanced those challenges as kids have navigated learning remotely and then reintegrated back into their typical routines. It certainly helps to have a steady hand for these young minds, especially in turbulent times; and Howard Drive Elementary has several advantages for parents looking for a great educational destination for their kids.
New Leadership
Christina V. Diaz has been one of those steady hands at Howard Drive Elementary for the past 14 years, serving as assistant principal to Deanna Dalby. With Dalby retiring this past year, Diaz gets the chance to live out her professional dream as the principal of the school she calls home.
"I feel extremely grateful to be the principal of a school with such wonderful children, a motivated and dedicated staff and parents who work closely with us to create an environment that facilitates students learning through a wide variety of innovative and collaborative methods and activities," she says. "Along with the staff and parents, I will work hard to continue the legacy of success established at Howard Drive Elementary by continuing to build strong relationships with parents, students, staff and community partners."
Diaz is joined by Elena Tanner as assistant principal, a newcomer to the school but certainly no stranger to childhood education. "This year marks my 20th year in the field of education, and I've loved every minute!" says Tanner. "As a child, I actually dreamed of becoming a pediatrician. However, after my youngest sister, Isis, was born with Down syndrome, I changed majors from biology to special education. Later, I realized that I could potentially make a greater impact on the lives of students school-wide rather than just my own classroom or department by pursuing a career as an educational leader; so I decided to complete my specialist's degree in educational leadership."
World-Class Curriculum
Diaz calls Howard Drive "a small school that makes a big difference," and smaller overall class sizes are certainly part of the appeal for both students and their parents. But she says the real game changer for the students at Howard Drive is their approach to curriculum and learning, which set up students at the school for future success in learning and in life.
"We are a Cambridge and STEAM [science, technology, engineering, arts and mathematics] school. As such, all students from grades pre-K through 5 are provided a curriculum that will enhance their academic performance by developing their creative thinking and problem-solving skills through the use of technology, hands-on lessons and differentiated instruction to meet their individual needs," Diaz says. "Additionally, we have a variety of clubs that help our students discover new passions and hobbies, such as Youth Crime Watch, Safety Patrol, Green Patrol, TV Crew and 5000 Role Models that foster each child's academic, emotional and social well-being."
Supportive Parents
Diaz and Tanner confirm that not only are their faculty and staff top notch, but they receive unbelievable support from the parents and the community as well. "Howard Drive has earned a reputation of academic excellence through the hard work of our students, teachers, parents and staff," says Diaz. "Our amazing PTA contributes greater awareness and capacity for improving family-school and community partnerships."
With all this support, both women are sure that the future of their school will remain bright for many years to come. "In order to maintain the school's excellence headed into the future, I plan to work collaboratively with Mrs. Diaz, our incredible teaching staff, our amazing PTA and all of our generous community partners throughout Pinecrest and Palmetto Bay to provide students with a one-of-a-kind, world-class education that meets each child's individual needs," says Tanner. "Parents should know that their child's safety and well-being are always at the forefront of everything we do at Howard Drive Elementary. We strive to facilitate every child's ability to meet and exceed their academic potential."
---
Howard Drive Elementary is located at 7750 SW 136 Street in Miami. They are currently accepting new students. You can learn more by calling 305.235.1412 or visiting howarddriveelementary.com.
(Visited 107 times, 2 visits today)
Tags:
howard drive
Last modified: January 9, 2023