If you're looking for the perfect blend of first-class senior living and premier health care, then look no further than Belmont Village Coral Gables.
Sometimes senior living can be about compromise: You get either top-notch living accommodations or best-in-class health care, but rarely do you find both in the same facility. With the new Belmont Village location coming to Coral Gables in 2023, that paradigm is about to change.
A Partnership Is Born
To bring both great accommodations and health care to her future residents, Patricia Will, the founder and CEO of Belmont Village, partnered with Baptist Health to bring a Live Healthy by Baptist Health wellness center directly to the location at Belmont Village. The center is intended to provide great medical care to all adults, not just those who reside at the community.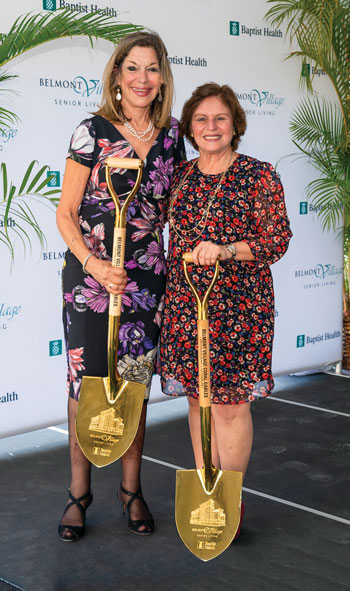 "From a program and cultural aspect, it's very exciting when the best health care system in South Florida and an experienced senior care provider can come together to focus on the health span — not only to live long but to live well," says Will. "The commitment Baptist and Belmont have as partners, both with regard to community health care and superb amenities, is unprecedented when it comes to senior housing in the area. There is nothing else like this in South Florida."
Convenient Options
For residents of Belmont Village, this will present a plethora of convenient health care treatments for them, without ever leaving the comfort of their residence. Ana Lopez-Blazquez, the executive vice president and chief strategy and transformation officer for Baptist Health, says the focus will be not only on offering treatment for seniors but also on strategies for preventing future medical concerns before they occur.
"Providing expert services that address the mental, emotional and physical well-being of the Coral Gables community is the sole purpose of Live Healthy by Baptist Health," says Lopez-Blazquez. "The entire project was developed with our beloved South Florida seniors in mind, offering both independent and assisted living options, as well as a holistic approach to healthy living. These complementary resources will help put residents and community members on the right path to making healthier choices."
In addition to the treatments and services offered by the wellness center, Lopez-Blazquez says Baptist Health is also embracing technology in its offerings for the new residents at Belmont Village. Both residents and other Baptist Health patients will have access to a program called Live Healthy from Home, which offers virtual health and wellness programs, exercise classes and talks with physicians. "Belmont Village Coral Gables will feature a variety of enrichment and social programs, which are ultimately designed to keep residents active so they can thrive in all aspects of their lives," she says.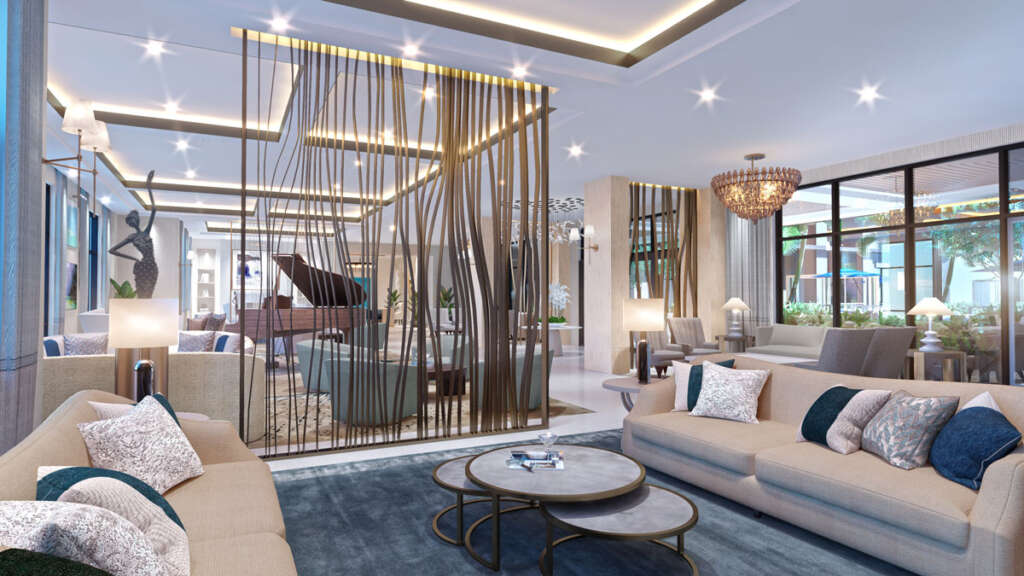 The Best of Both Worlds
Ultimately, the goal of Belmont Village's Coral Gables location is to give seniors the best experience in both daily living and medical care as residents. Will is seeing this vision come together as they eye an opening date of August 2023. The community itself features an exquisite blend of inviting indoor and outdoor spaces, with areas to exercise, dine, play, shop and more. Belmont Village itself will have retail opportunities on the ground floor, and the walkable aspect of the community — coupled with its proximity to The Shops of Merrick Park — are a huge plus.
"We believe very strongly in indulging in the gift of aging," says Will. "To do that, we allow for a variety of services by licensing the entire building. So, if someone needs intermittent care or if we have a couple where one is completely independent and the other needs care or support, we can deliver services to both. This way, couples can stay together and we can provide personalized services to both at different stages of life and health."
Joining Belmont Village
Belmont Village will feature 200 apartments for independent living, assisted living and memory care. About one-third of these units are already spoken for, and there is a wait list that people can join if they are interested in being a part of the community.
Will sees the collaboration between Belmont Village and Baptist Health as a partnership that will continue into the future. "We cannot wait to be in the Gables!" she says. "This is the prelude to additional communities that we will create with Baptist Health in South Florida."
---
To learn more about Belmont Village Coral Gables or schedule a visit to their Discovery Center at 4201 South Le Jeune Road in Coral Gables, visit their website at belmontvillage.com/coralgables or call 305-260-6149.
(Visited 123 times, 1 visits today)
Tags:
belmont village
,
Coral Gables
,
senior living
Last modified: November 1, 2022