The Miami-Dade County Public Schools (M-DCPS) Principal of the Year Rafael Villalobos is driving home in a brand new 2020 Toyota Tacoma in honor of his outstanding service and dedication. Schools Superintendent Alberto M. Carvalho, Board Member Dr. Marta Pérez, representatives from Dade Association of School Administrators and District administrators met at John A. Ferguson Senior High to celebrate Villalobos, as he was presented with the keys to the complimentary leased pickup truck by Anthony Damato from Toyota of North Miami.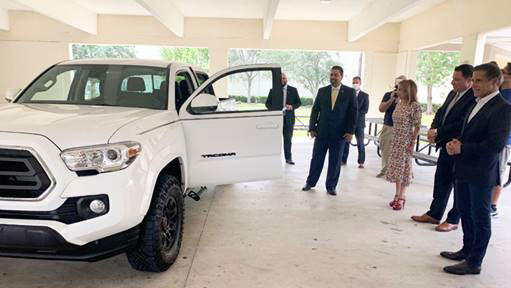 "It is a proud moment to receive this prize, which represents years of work and sacrifice not just by me, but by all principals and all other M-DCPS employees," said Villalobos. "We have all worked so hard to make sure our students receive the best academic preparation to set them up towards success."
An innovative leader, Villalobos' love and passion has resonated in every one of the six schools he has led over the past 20 years. His leadership has yielded major impacts throughout Miami-Dade County, evidenced in substantial increases in graduation rates, academic performance, extra-curricular recognitions, and in the pioneering of innovative educational programs that have been the staple of his career. Villalobos' drive to continue to give back to his students has earned him the respect and admiration of parents, colleagues, community leaders, and those young men and women he serves daily.  
Villalobos says he chose the truck for his gift of the free three-year lease, because as soon as he and his wife Elizabeth saw it, they determined together that it was perfect. He says a road trip to Sarasota is next on their agenda. As winner of Principal of the Year, Villalobos also received $2,000 and a gift basket valued at more than $2,000.