Gulliver junior Karela Palazio, who lives in Pinecrest, placed first in the GLAD (Global Learners Academy of Development) International Online Art Competition, with a COVID-19 theme, for children from 4 to 19 years. Karela, who serves as Gulliver's Health Information Project (HIP) President, combined her interest in art and health with the goal of spreading awareness about COVID-19. Her work visually showcases the pandemic and is titled One Moon, One Message: We Are All in This Together.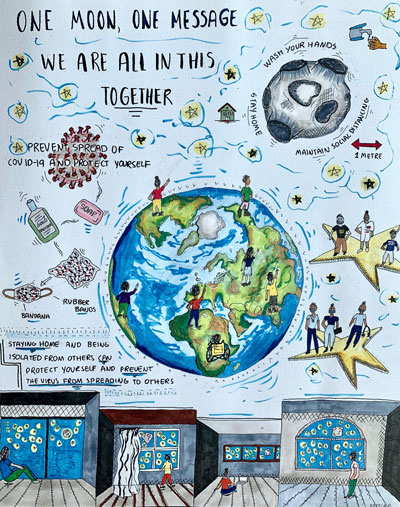 Below is an inspiring description of the artwork.
The COVID-19 pandemic is portrayed through the metaphor of the moon since that is visible around the globe. The moon reminds people to protect themselves and prevent the spread of the virus. The stars of the pandemic are the healthcare and service workers as portrayed on the right side. On the bottom, there are images of people social distancing at home, looking at the moon and the message. This emphasis shows how the virus is universal in the way that it can affect people. On the left side are visual images showing ways to keep healthy during the pandemic. As not only citizens of our countries but of the whole world, we should abide by these precautions to be ethical and virtuous global citizens at a time where every person's actions matter.