After a decade in the real estate business, Ana Teresa Rodriguez is hardly resting on her laurels. The realtor closed out 2019 by celebrating with the highest record sale record sale in North Pinecrest, selling a newly constructed, customized home at $6,499,000. Over in the Gables, Rodriguez also owns the highest record sale in a duplex, and another at Edgewater's Paraiso Bay where she sold a Penthouse at a record $1,730,000. "A listing needs to be approached from a different perspective," she says. "Market price is important to keep in mind, but that's only one part of the deal. It is important to consider the seller's goals on price, and from there we establish the custom marketing strategy to present to our clients. For me, it's important to walk the house, to feel the spaces, and be inspired to establish my market strategy to reach our target customers."
We spoke with Rodriguez, as the year came to a close, to look ahead at the 2020 market and understand just what's motivating buyers, sellers, and real estate professionals.
Tell us a little bit about your record-breaking year and what that means in the market?
9121 SW 62nd Court is located in North Pinecrest. This is my second record-high sale in this area. Before this sale, I worked with the same investor to build and sell another new construction home in North Pinecrest. At that moment, I identified that the North Pinecrest area was in need of a modern home with a guest house, club room, gym, modern bedrooms and big kitchen, which would add more than 12,000 square feet to the home. That meant that if I proposed to build a big house, my client would need to sell it at the highest market value in the area–which is a big challenge and a great risk. However, I knew I could make it happen. After this recent record sale, I hope sellers and developers understand we have smart buyers that favor quality finishes and expect the best. Developers, sellers, and realtors need to offer the perfect homes to potential buyers. If we list it right, we will sell it right.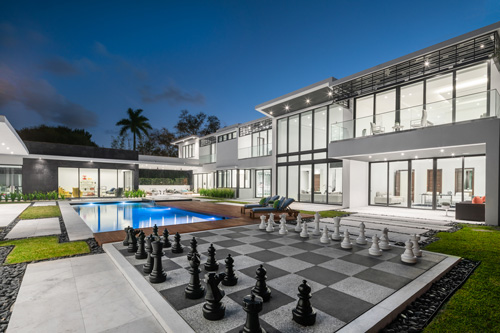 How did you get into real estate?
My background consists of 23 years of experience in marketing and advertising as the Editor-in-Chief of the lifestyle magazine Cosmo Florida. I was inspired to enter the real estate industry after learning about it while interviewing several developers and realtors. I realized that I could use my professional skills, including my passion for marketing, advertising and image consulting. My father was an architect back in Venezuela, and I grew up around homes by visiting his projects every day after school and on weekends. This is the perfect career for me, and I see myself doing this for the rest of my life.
What areas/price ranges do you specialize in?
I work with customers from around the globe who are ready to buy and/or sell in Broward and Miami-Dade County luxury residential and commercial markets. I service commercial and residential real estate. While I do specialize in high-end, luxury, new construction custom homes, I also work with investment properties and create investment portfolios for investors looking for rental income properties or to build new construction. Today, I have a team of realtors to serve my different clients' needs and I utilize my renovation team (including licensed contractors and designers) to assist me with everything from staging a property for sale, to updating renovations, to building a new construction.
What is your philosophy when it comes to working with clients and how does it set you apart from other agents?
My philosophy for working with clients is all about providing the ultimate customer service experience. I treat each transaction with the same interest and passion, no matter how big or small it is. My goal is to be their friend and realtor for life. Clients can sit back and relax while I prepare their home to go on the market. While on the market, they will receive market analyses, market comparisons, and income analyses for prospective investors. Each of my listings will get innovative marketing strategies to successfully promote them in a way that fits the demands of today's buyers to ensure a smooth and swift closing. I promote my listings globally and I personally travel around the world promoting my portfolio of listings to qualified buyers, brokers, and investors.
What is the most challenging aspect of buying and selling in the Miami market right now?
Right now, we are in a mixed market. For condos we are in a buyer's market, with an oversupply of condos built in the past six years. However, single-family homes are in an equal market for buyers and sellers. For someone that does not understand the market, it can be difficult to read. For someone with my experience, this is a great opportunity to buy or sell and make a profit. My suggestion to buyers: buy, buy, buy… but buy smart. My suggestion to sellers is to make your home look its best to show its potential. It's important to price it right and of course hire the best listing agent to create the best images, videos and to expose your home to the world. This is a great time to sell.
What is selling right now and why?
If a property is priced right, and has the right updates, it will sell no matter what the price point is. For example, this year I have done three record sales in three different areas, during a year that some realtors claim is slow. I did a record sale in Paraiso Bay in the Edgewater area of a penthouse that sold in October at $1,730,000. The highest closed sale this year and a high price. I did another record sale of a duplex in Coral Gables that sold in May. I represented the seller and sold it for more than $300,000, which is 30 percent more than the previous highest sale in the area. The secret is image and marketing. The property needs to look it best, not for your taste but for the market, and needs to be exposed correctly, including pictures, videos and a strategic marketing plan.
Where do you see the market headed in 2020 and how can Miami homeowners make the most of it?
2020 is going to be a fantastic year for real estate. Ten years ago, we had such a bad recession that for the past eight years, we got used to the market steadily increasing. Some may say it will continue to rise. What's happening now is called "stabilization." I still have buyers renovate homes for a profit, developers building luxury or rental income, regular buyers looking for the perfect home, and, of course, investors. I encourage all of them to buy now. I believe now that the market is steady, we still have amazing opportunities. 2020 is going to be a much better year than 2019 as we are going to see more closed sales. We have great opportunities to live, buy and invest. The key is to work with the right realtor that knows the market and the potential that the properties have.
---
Please visit AnaRodriguezRealtor.com for Ana's latest listing and for more information.
(Visited 65 times, 1 visits today)
Tags:
market
,
realtor
,
recordsale
Last modified: January 3, 2020