Christmas is around the corner and if you're planning to get a gift for your pet, you are not alone. At least fifty percent of pet owners give their pets a gift for the holidays. The average pet gift-giver will spend about $30.00 on the gift. Is it worth it? Well, consider the benefits: it reaffirms them as an indisputable part of the family, it makes the day more fun for everyone, and, most importantly, it makes us happy. There is no limit for the kind of present you can get for your pet. The most common pet gifts in order of popularity are: toys, special treats, a new bed, clothes, and a new collar. Try including a small treat or some catnip to help your pet find their gift on their own and add to the excitement. Now before you go running to the pet store or start making that homemade gift, here are some rules you should follow: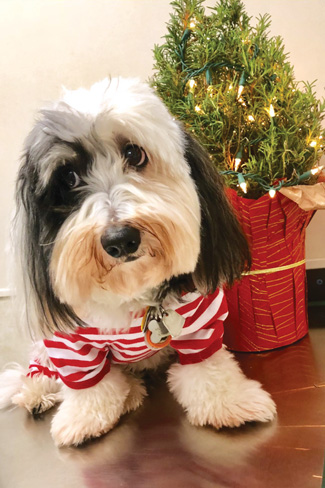 Rule #1: Safety is the priority. The gift must be ideal for the size and age of your pet. Choose materials with high durability. Avoid toys that have parts that can be detached and swallowed such as bells, feathers, small balls or strings.
Rule #2: Avoid toys that look like household objects such as squeaky toys that look like shoes or stuffed animals with the appearance of children's toys. Your pet will not know the difference will chew on both.
Rule #3: More expensive is not always better. Your pet may favor the homemade peanut butter doggie cookies baked by your children over the overpriced store-bought cookies with excess icing, preservatives, and a dubious nutritional profile.
Rule #4: Stay away from "edible" chew products such as pig ears, bones, bully sticks and rawhides. Even though dogs love them, these have high potential of causing obstructions or trauma to the gastrointestinal tract that can result in your pet spending the holidays in a veterinary emergency clinic.
Rule #5: Avoid treats made in China. Theses treats have been under investigation by the FDA for years now because of pet deaths that have been reported after eating them. There are new recalls all the time.
If getting your pet a gift doesn't seem like something you might want to do, that's just fine. They'll love you all the same. As all pet owners know, the most precious gift you can give a pet is your undivided attention, love and care.
---
Dr Sanchez-Emden is the founder of the Animal Health and Rehab Center in South Miami. She has been practicing veterinary medicine for 25 years. As a Certified Veterinary Journalist, she is the resident veterinarian for Telemundo. She authored the book "CHIHUAHUAS: How To Be Your Dog's Best Friend". She also hosts the podcast show "Hablando de Perros y Gatos con Dr Marta" available at the main internet platforms. Follow her her blog, drmartavet.com, and on social media @Drmartavet on You Tube, Instagram and Twitter. Also find her at Facebook.com/dr.sanchezemden and animalhealthrehab.com
(Visited 5 times, 1 visits today)
Tags:
dog
,
gift
,
holiday
,
pet
Last modified: December 5, 2019