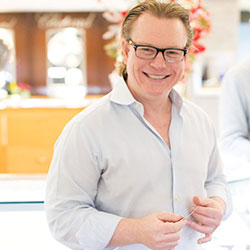 It may have started with humble beginnings, but today, Coconut Grove's H&H Jewels can lay claim to a reputation as one Miami's premier venues for diamonds, engagement rings, gemstones, jewelry, designers, and fine Swiss timepieces. "I started out as a young man selling jewelry from a kiosk on Commodore Plaza in Coconut Grove," says owner H. Bredemeier. "The success and growth of my company has only happened as a result of tremendous support from the community and my clients." Traveling the world to find diamonds and precious gemstones has made Bredemeier the one to turn to for unique design (the company manufactures their own pieces on-site in Coconut Grove) and practical advice. We spoke with the expert jeweler about all things engagement, including budget, trends and the importance of thinking outside the box.
What are your best pieces of advice for anyone starting an engagement ring search?
The three pieces of advice I would have share are: First, know how much you want to spend. Budget is a great first step in choosing the perfect ring. Here at H&H Jewels we understand the importance of meeting our client's expectations at varying price points to ensure that quality and customer vision are fulfilled with prices starting in the $2,500.00 range and up. Second, once you know your budget, determine your diamond shape. Try different cuts of diamonds and see what looks good and feels good to you. We have a comprehensive selection of varying diamond types from round brilliant cut, to pear to emerald and many shapes in between. Last, think about the type of metal, style of shank and the thickness of your dream engagement ring. See how yellow gold, white gold, rose gold and platinum feel and how they meld with your skin tone. How does the weight feel, is the shank too thick or thin? Ask yourself these questions while perusing. My team of skilled associates ensure this process by encouraging brides-to-be to physically try many options. Sometime what they envisioned changes when options are presented.
How types of guidance do you offer in-store?
H&H Jewels is a customer-service oriented store and when it comes to engagement rings, my staff takes significant time getting to know each patron involved in the ring purchasing process. Understanding our customers wants and desires, coupled with their budget, is how we ensure their satisfaction.
What some things to consider when starting a search?
Consider what the bride-to-be's occupation is and what she likes to do in her downtime. Sometimes this isn't top-of-mind, but it's very important in helping determine style and design. A woman who is a nurse and uses her hands for work, then likes to rock climb on the weekend will have different considerations than a woman whose occupation requires minimal hand use, and who engages in less strenuous or active downtime. This will help decide which style is going to be comfortable in her daily life.
What are some trends coming up in the engagement market?
Trends right now in the engagement ring market highlight a lot of vintage-inspired rings, as well as rustic diamonds. I handcraft vintage-inspired rings that revive the past and give them a voice in the present. If you can dream it, it is my goal to try to make that dream a reality.
What's your best advice for those on a smaller budget?
Well, my advice for a person on a smaller budget would be much like my initial advice, determine what that dollar amount is and work with a jeweler that is keen on meeting those specifications.