Cirque du Soleil is bringing their signature blend of performance, music and art to Miami once again with the premiere of VOLTA. Written and directed by Bastien Alexandre and with Jean Guibert as the director of creation, the show features music by International electronic group M83, who brings his space-age future pop sound to the Cirque du Soleil stage for the first time ever. The show will be presented under the Big Top next to the Hard Rock Stadium in Miami starting December 15, 2017.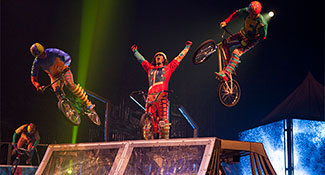 The name VOLTA refers to a sudden about-face, a change in emotion or idea often used in poetry. It also speaks to the jolt of energy delivered through the show. VOLTA tells a spellbinding story about the freedom to choose and the thrill of blazing your own trail. Inspired in part by the adventurous spirit that fuels the culture of action sports, the show weaves the adrenaline rush of acrobatics into a visually striking world driven by a stirring melodic score.
WAZ, a popular game show host, has lost touch with his inner self in the pursuit of fame, pulling others in the trap of instant glory. But as doubt sets in, WAZ is enlightened by childhood memories as he encounters "free spirits" who open doors to his inner soul he has long kept shut. On his high-voltage search for meaning, will WAZ find the courage to relinquish his fame, reconnect with his true self, and shine bright?
Access to the best seats and prices are available for existing Cirque Club members and those who do not have a membership can visit cirquedusoleil.com/cirqueclub to sign up for a complimentary membership. Cirque Club members receive advance access to the best seats under the Big Top, at the best price. Tickets are also available for purchase to the general public visiting cirquedusoleil.com/volta or calling 1-877-9CIRQUE (1-877-924-7783). Tickets are available starting from $40.
VOLTA is a story of transformation. It is about being true to oneself, fulfilling one's true potential, and the power of the group to make that possible. It celebrates freedom as a movement.
---
Find your free with CIRQUE DU SOLEIL VOLTA in Miami!
15% off tickets
Go to: thefloridavillager.com/volta