After a challenging couple of years, it's time to embrace the season and dream up a party that will have everyone enjoying some holiday magic.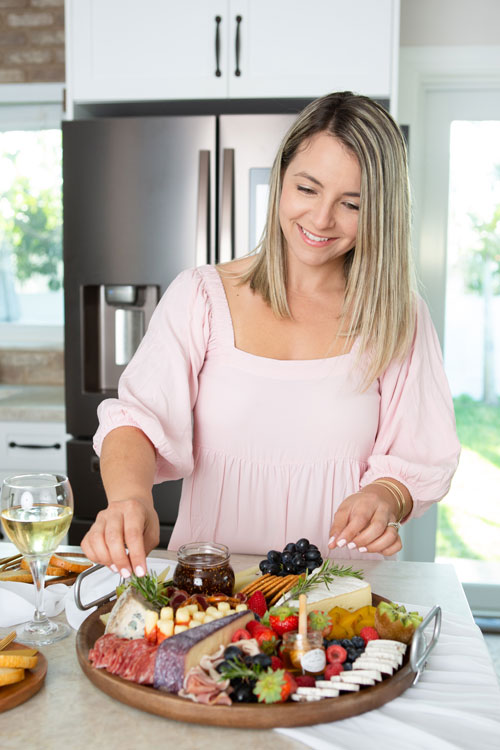 While we may not witness vibrant hues of orange and red this fall or experience a white Christmas here in South Florida, we can still plan a memorable event to celebrate with friends and family. Here are some ideas for entertaining your guests.
Holiday-Themed Happy Hour
Welcome the guests with a drink to kick off the festivities. Combine happy hour with some ice-breaking activities, such as holiday-themed trivia. You can divide into teams and play a fun trivia game with categories like Christmas movies and holiday songs. Christmas movie charades, Bingo or a game of Pictionary with prompts of reindeer and mistletoe is another way to incorporate the holiday season. If it's an alcohol-free event, serve sparkling cider or eggnog.
Host an Elegant Dinner Party
This theme is all about being surrounded by good friends and hosting those near and dear to you. It's best to keep the guest list small for a more intimate gathering, and then you can plan a more elaborate menu. Keep it cozy by serving a warm, hearty meal; and don't forget the dessert. Appetizers also help set the mood and give you the opportunity to come together for some meaningful conversation before sitting down for dinner.
Create a Winter Wonderland
Why not escape the heat and humidity of South Florida with a dreamy winter wonderland theme (even if it's only for the night)? Set up a majestic holiday backdrop with pearly white balloons, glowing white candles, a white and silver tablescape, snowflake-themed décor and silver teaware. You can even ask the guests to dress all in white and silver for the wintery occasion!
Pajama Party, Anyone?
Instead of a formal event, ask your friends or family to come in their holiday PJs for casual appetizers, drinks, and fun. You can set up a hot cocoa bar or make s'mores in the backyard if it's a chilly night. And how about organizing a game of Candy Cane Relay? Break up into two teams and each player has a minute to gather as many candy canes as they can while holding a candy cane in their mouth and using the hook to grab more. If you want to make it a more suave and sophisticated affair with your friends, why not look at some silk robes and plush pajamas that you all can wear as you sit around the fire and eat food and drink wine, it can do wonders to relax you.
Latkes for the Win
For Hanukkah, a great idea is to share latkes, delicious potato pancakes or fritters that are traditionally served during the holiday. There are different ways to make latkes, which adds a fun and unexpected twist. You can either make them at home or ask your guests to bring some as part of a potluck dinner. This way, you'll have a delicious variety, since guests will likely have their very own unique recipes to share with the group while they mingle and have a great time.
---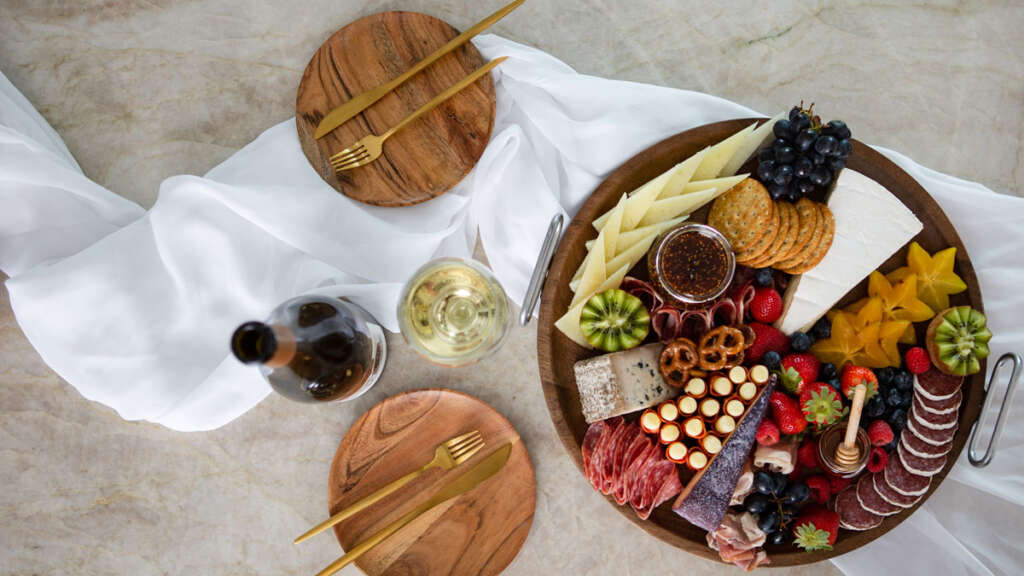 Create Your Own Charcuterie Board
Charcuterie boards have gained popularity during the pandemic, with some experts creating jaw-dropping presentations and upscale tablescapes that steal the show. These boards typically include a selection of cured meats and cheeses, as well as other bite-size sweet and savory accompaniments; but the options are endless.
After establishing her career as an event planner, Ailyn Quesada opened Saving Graze Miami during the pandemic because she saw "an opportunity not just to fill up hungry bellies but to fortify family relationships." We asked her for some insider tips to help you create your very own artistically curated board that will impress even your most discerning guests.
Choose seasonal items for the best tasting board.
Include a variety of items. Offer at least three cured meat options, three or four artisanal cheese selections, fruit, nuts, veggies and simple sweets.
When choosing your cheeses, make sure to include different types. Quesada likes to have one of each variety: semi-soft, hard, blue and soft rind.
Select items that will pair well with the wine you will be drinking.
Make sure to prepare the items right before your event to avoid soggy crackers.
Garnish your board with aromatic herbs such as rosemary or sage.
Some of her favorite items to include are:
Guava paste cut into bite-size cubes is always a hit. It pairs perfectly with goat cheese.
Choose the flat pretzels instead of the traditional ones.
Purchase artisanal crackers. Target has a great selection for an affordable price.
Prosciutto, capocollo and salami are the most delicious types of cured meats.
---
To see Quesada's creations, visit savinggrazemiami.com or find her on Instagram at @savinggrazemiami.
(Visited 91 times, 1 visits today)
Tags:
festive
,
holiday party
,
party planning
Last modified: October 4, 2021