With constant innovation and a focus on the customer, Coral Gables Plumbing has provided its clients with unprecedented service for generations.
Many homeowners may have the number of a plumber in their contact list – one that they call for home remodels and makeovers or another that they call when something goes wrong. With Coral Gables Plumbing, however, you can eliminate those other phone numbers. Over the decades, they've evolved and innovated into a trusted one-stop shop that can do it all: bathroom remodels, kitchen makeovers, major plumbing renovations, 24-hour emergency services and more.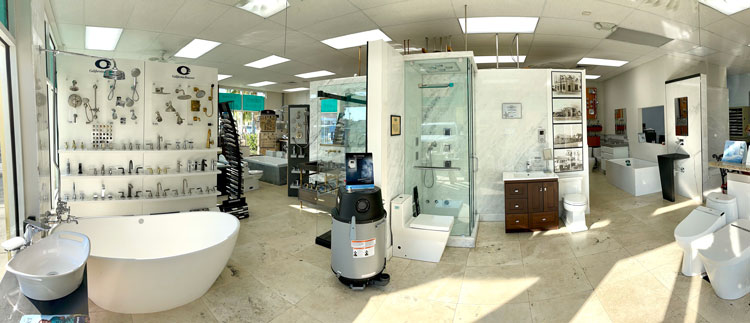 Remodeling Specialists
One resource that makes Coral Gables Plumbing truly stand apart from their competitors is their design center and plumbing showroom. For homeowners that are interested in a bathroom or kitchen makeover, they can consult with a licensed professional to make the right choices for their home. "Homeowners can sit down and go through all their product selections for faucets and fixtures, cabinetry, tile and accessories," says Brandon Swanson, general operations manager for Coral Gables Plumbing. "We help you every step of the way by guiding you throughout the entire process."
Swanson adds that this streamlined process has additional benefits for the homeowner as well: There's no miscommunication between the suppliers and the installers, so homeowners know that their Coral Gables remodeling project will always be done right. "This allows for the salespeople and installer to all be on the same page with one-stop shopping, sales, service and turnkey remodeling," he says.
24-Hour Emergency Repair Services
While kitchen and bathroom remodels may be the flashy part of the business, we all know that plumbing is prone to emergencies that require immediate attention. Coral Gables Plumbing has you covered in that area as well. "We offer 24-hour service, repairs and drain cleaning to residential and commercial customers," says Swanson. "We are reliable, experienced and prepared. Customer service and quality is our top priority."
A Commitment to Innovation
Though they've been in business since 1946, Coral Gables Plumbing has always kept a strong focus on innovation – yet another factor that sets them apart from their competitors. One service that the company offers is known as trenchless pipe repair. Cast iron drain lines are a major problem for houses built prior to 1975. In the past, faulty cast iron pipes beneath a home would require tearing up the floor to resolve the problem. This can get very costly, and the homeowners have to move out while the work is performed. Trenchless pipe repair allows professionals to repair these old pipes by inserting an extremely durable plastic liner into the existing pipe without trenching through the floor. "When installed properly, these liners have a 50- to 80-year life expectancy," says Swanson. "The work is approved by the Florida Building Code and is performed with permits and third-party inspections for quality assurance."
For local Restaurants and food service operations, Coral Gables Plumbing also offers grease trap installations, replacements and upgrades. This sometimes-tricky installation allows local restaurants to earn compliance with Miami-Dade County Fats, Oil and Grease (FOG) requirements and avoid costly fines. This can be a difficult process to navigate, but Coral Gables Plumbing specializes in this service. They bring in an engineer, draw up the plans and can get restaurants out of a jam with turnkey solutions.
A Focus on the Community
Despite their wide range of products and services, Coral Gables Plumbing has never wavered on the core mission of their business throughout the decades: their focus on the needs of the customer.
"We all live and work in this community. I see my customers at the grocery stores and shopping mall, and I've never come across a customer that I need to turn my head away from or be ashamed to bump into," says Swanson. "We take pride in our work and support our customers. We work with local businesses and Realtors to help serve their plumbing needs. We have an office to serve customers in person and walk them through the process, ensuring they have everything they need."
Family-owned and -operated since 1946, Swanson, his father and brothers are continuing to grow the business, creating bright futures for generations to come. Swanson's two children, ages 6 and 8, visit the office frequently and proudly wear their Coral Gables Plumbing T-shirts.
---
Coral Gables Plumbing is located at 13101 SW 87 Avenue in The Falls Design District. For more information, call 305.254.3434 or visit their website at coralgablesplumbing.com.
(Visited 127 times, 1 visits today)
Tags:
bathroom
,
coral gables plumbing
,
faucets
,
plumbing
,
quality
,
service
Last modified: September 27, 2021