Carol City Middle School is the latest Miami-Dade County Public Schools (M-DCPS) campus to receive a new, technology-rich media center as part of the District's Middle School Redesign (MSR) initiative. A ribbon-cutting ceremony held this morning unveiled the school's new virtual reality (VR) equipment, Promethean board, robotics section and more than a dozen computer stations.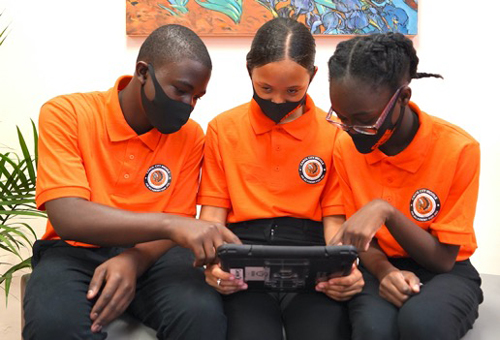 Carol City is one of 16 Miami-Dade public middle schools having its media centers transformed into enriched innovation spaces through a $2 million partnership between
M-DCPS, the College Football Playoff Foundation and the 2021 College Football Playoff National Championship Game Host Committee (CFPNCG).
Schools Superintendent Alberto M. Carvalho, School Board Vice Chair Steve Gallon III, and Carol City Middle Principal Andy Harrison were joined by Orange Bowl Committee CEO Eric Poms, Florida Lottery Secretary John Davis and Thomas Abraham, Chair of the Anthony Abraham Foundation to officially unveil the media center.
Eighth-grader Richkard Francois, who gave the Student Welcome at this morning's ceremony, was excited about being a part of this event. "I get to witness the whole place and it's nice knowing that a lot of people are going to get educated here."
Richkard was also happy with the new colorful walls, furniture and equipment. "I'm mostly looking forward to using the iPads and the soft, comfortable seating everywhere. I really like the couch and that I'll get to sit back and enjoy while studying."
The partners will continue to unveil new projects throughout the year in support of the District's MSR initiative, which is intended to meet the unique social, emotional and academic needs of teachers and their students.
(Visited 54 times, 1 visits today)
Tags:
carol city
,
miami dade county public schools
,
space
,
space media
Last modified: September 13, 2021