Triller FIGHT CLUB hosted by Mario Lopez & Snoop Dogg + Meek Mill, Farruko on June 19
You've heard about Mike Tyson's comeback? The Jake Paul Craze? The fights that have drawn the biggest celebrities in the world like Justin Bieber, DojaCat, Major Lazer, and The Black Keys right? Meet Triller, the AI driven social media company behind single handedly driving today's pop culture.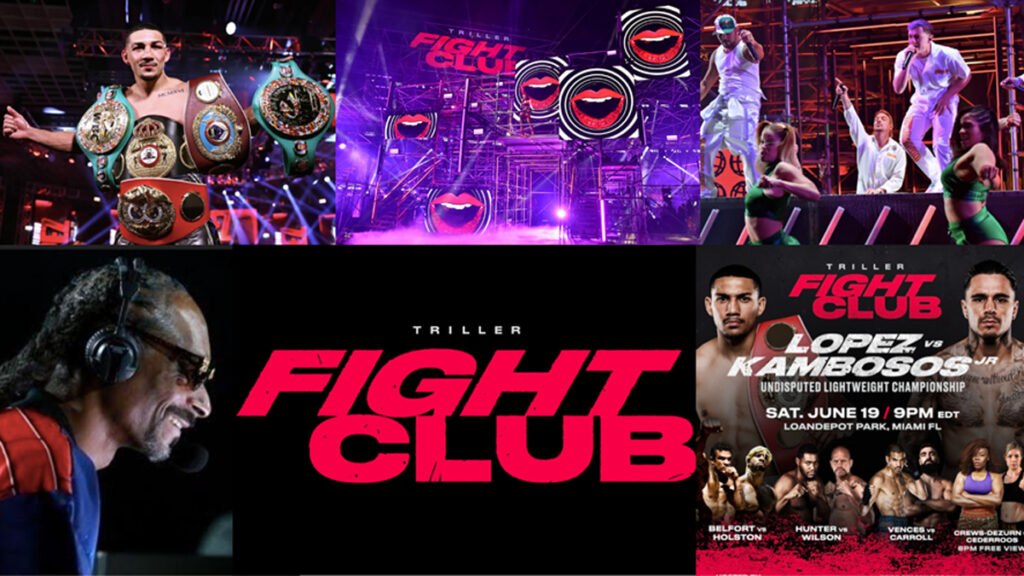 Triller Fight Club is changing the face of boxing, galvanizing an entire new generation by combining legendary heavyweight match-ups and huge music talent to create experiences that are imprinting on the cultural zeitgeist that has never been seen before, and now it's coming to Miami.
On June 19th, Triller's next spectacular and unprecedented event, including a blockbuster concert, will take place in Miami, hosted by Mario Lopez and Snoop Dogg.
We would love for you to announce and/or cover the event for the "what to do during the weekend" section. (Yes, we would love to have you there as our guest, as well. But first, we need help spreading the good word). Interviews are also available with talent. More information on that below but for now, here are the details!
Music Stars Meek Mill, Myke Towers, Snoop Dogg, Gente De Zona and Lunay and now Farruko, one of Latin Urban music's leading and globally acclaimed artists, will take the stage for the first time at Miami's LoanDepot park to help kick off the New Triller Live Concert Series during the Triller Fight Club event. The concert will be part of an epic three-hour event for Miami's FIRST "full open seating" event post-COVID.
Triller Fight Club partner Snoop Dogg, states, "To have such a talent as Reggaeton star Farruko joining this incredible line-up of music and fights, well, there is nothing left to say. You all better be in Miami on June 19, or you will be missing out on the most exciting cultural moment of the year."
The concert, which kicks off at 6:00 PM EST, precedes the most exciting, thrill-packed fight event of the year, which will also offer entertainment between fights once the fight card starts. The evening will also feature a surprise performance of a never-before-seen and never-seen-again duet.
The event will be a four-hour extravaganza of music, dancing, a world-class pyrotechnics display, some of the biggest boxing matches ever to be in a show produced by the visionary producer Nigel Lythgoe of So You Think You Can Dance and American Idol.
The boxing portion will be headlined by the first defense from Brooklyn, New York's 'The Takeover' Teofimo Lopez, (16-0, 12 KOs), of his Undisputed Lightweight World Titles (WBC, WBA, WBO, IBF, RING) against Mandatory Challenger, 'Ferocious' George Kambosos Jr., (19-0, 10 KOs), of Sydney, Australia scheduled for 12-rounds.
Just added to the stacked undercard is a boxing grudge match between former UFC Light Heavyweight World Champion, 'The Phemon' Vitor Belfort and 'The Real Tarzann' Mike Holston.
For the first time ever, viewers and fans from around the world can now get exclusive televised and in-person access to ALL Triller events with the all NEW ANNUAL TRILLER PASS. The FIRST Netflix-like service for live events and access to PPV. 
Prices range from $50 to $3,000 and include options from VIP ringside seats to traditional seats in the stadium (Home of Miami Marlins) upper and lower bowls, as well as seats near the two entertainment stages on either side of the ring, positioned at the pitcher's mound. For tickets and information, visit www.TrillerFightClub.com.
Details on Miami Fight Week leading up the big event on June 19:
Tuesday, June 15- Vitor Belfort/The Real Tarzann Media Roundtables  12:00 p.m.  –  Santa Cruz Room (2nd Floor)
Thursday, June 17- 12:30 p.m.  — Press Conference Media Arrival/Lunch – Foyer Grand Ballroom (3rd Floor)
1:00 p.m.  — Final Press Conference –  Grand Ballroom (3rd Floor)
June 18- TrillerPass members will join Snoop Dogg at a special pre-party at LIV.
June 19- Triller Fight Club's event at loanDepot park in Miami.