After spending more time at home in 2020 due to the pandemic, the importance of creating living spaces to suit your lifestyle increased significantly. Chances are you've probably already implemented a few changes to your décor. Here, we're sharing emerging interior design trends to keep your eye on as we navigate this new normal. After all, now is the perfect time to liven up your space with a little makeover.
Functionality is Key
Your living space should meet the needs of your ever-evolving lifestyle, since your home has become much more than just a place where you rest after a full workday. It has emerged as a multi-use space that functions as a workspace, conference room, gym and, in some cases, even a classroom. It can be challenging to remain productive as the line between work and home is starting to blur, so having a dedicated workspace or fully functioning home office is ideal.
Think about using existing spaces and repurposing them to adapt to your needs. For instance, if you won't be welcoming out-of-town guests for a while, you can use that spare room and transform it into a study area for the kids, a cozy home office, or both. Now is a good time to apply the "less is more" philosophy and declutter. It helps to keep your mind fresh, increasing productivity. Multifunctional pieces make clever design choices, as the goal is to incorporate furniture that is both comfortable and user-friendly while at the same time aesthetically pleasing.
If you don't have a home office, try to establish productivity zones for your scheduled tasks. Create a breakfast nook where you can have your morning coffee while getting some tasks done. Or set up a sleek desk in your favorite corner of the house to power through emails. If you're working in your dining room, look for a table with drawers where you can store your laptop when it's time for family dinner. These simple design tweaks can bring about productive results.
If you find yourself in virtual meetings frequently, consider creating a visually appealing and professional looking backdrop. You can set up your desk in front of a neatly-styled bookcase, hang eye-catching art on the wall, use a table or floor lamp for some soft lighting, and even add some greenery to make it stylish.
Inspired by Nature
Nowadays, people are craving nature and wanting to strengthen their bond to the outdoors by creating a seamless transition between indoor and outdoor living. For this reason, we're seeing designs that focus on using earthy tones, natural materials, and laid-back styles. Think lighter natural woods, unfinished stone, curved furniture, and textured fabrics.
While there are many ways to incorporate nature-inspired interior design into your home, one way to do this is by installing large bi-fold doors that open up the space and bring in natural light. Also, outdoor areas are getting a makeover as more people are looking to complement the designs they have inside and maximize the use of outdoor spaces with dedicated areas to entertain, work, dine, or just hang out.
Sherwin Williams recently announced Urbane Bronze as their 2021 Color of the Year. It's a color that's rooted in nature and embodies "the richness of the Earth's stone, metal and wood," according to their website. BEHR's 2021 Color Trends Palette also includes a variety of colors inspired by nature. These include earthy, harmonious, warm and approachable tones such as Almond Wisp, Modern Mocha, Barnwood Gray, Canyon Dusk, and Kalahari Sunset — all of which add casual comfort and a relaxing ambience to any space. Soothing and rejuvenating blues and greens are also on their palette, which perfectly align with more coastal-themed designs.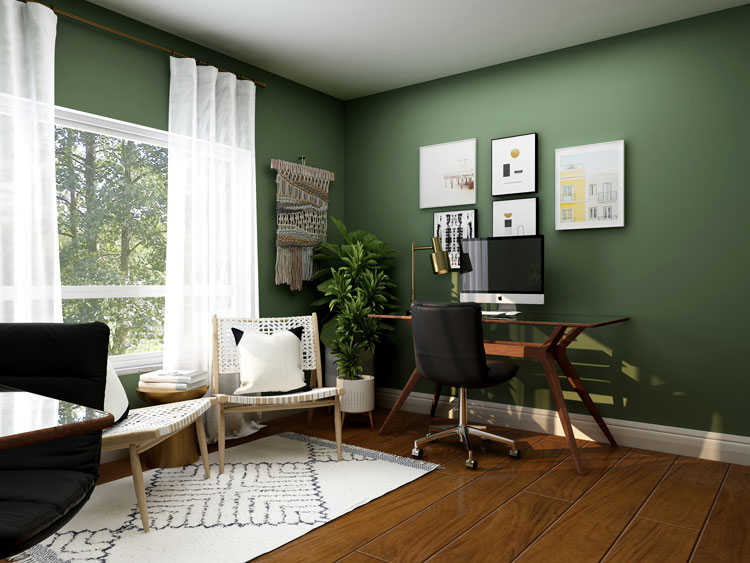 Coastal Clean Aesthetic
Can't wait for your next getaway? You can bring some beachy tropical vibes into your home, so it feels like you're on vacation all year round. A clean, breezy and relaxing vibe has become popular and it's probably a trend that will continue for some time.
Coastal is all about natural light, fresh whites, clean lines, and organic materials. This design aesthetic primarily takes its cues from natural and organic furniture, rugs, and upholstery often made of rattan, jute, straw, wicker, and wood. White-washed wood, for instance, is common with this style while adding a pop of blue or green creates visual interest and a focal point. You can add a little bit of layering as well, such as placing a wool rug over a larger jute rug or piling textured pillows and throws on the sofa. Swap your dark window treatments for sheer blinds or linen curtains and don't forget to incorporate greenery. Houseplants cleanse the air and spruce up the design. The ultimate goal is to create a natural retreat where you can clear your mind and feel refreshed.
The purpose of design is to improve the user experience from both a functional and aesthetic perspective. No matter what design style you choose, make sure it speaks to you and works with your individual lifestyle. This year, one thing is for sure: Your creativity is absolutely in.
(Visited 5 times, 1 visits today)
Tags:
clean
,
home and design
,
nature
Last modified: February 1, 2021