Sanderling Resort I am a firm believer everyone should have a bucket list, but just because you tic an item off, especially if it is travel related, doesn't mean you can't revisit it. This was the way with Sanderling Resort in the Outer Banks.
I arrived into Duck late one August afternoon, grabbed a donut at Duck Donuts where you can design your own, and headed for The Sanderling Resort. I had researched it so I had seen pictures, but they were nothing compared to what I saw in person. I immediately wished I could stay more than a couple of days. The creak of the wooden steps leading up to an inviting porch complete with rockers, along with the sound of the surf, made me feel like I was getting ready to spend a weekend at the family beach house.
The Sanderling Resort is a luxury resort with a coastal feel, nothing pretentious about it. It sits on 16 acres with views of the Atlantic and Currituck Sound that could be seen from my bedroom. The rooms are exceedingly spacious with slingback chairs on the balconies that overlook the ocean, pool, firepit and the pool bar. Along with other amenities, such as a spa, the resort boasts amazing dining. The Lifesaving Station is known as having the "best breakfast on the Outer Banks" and Kimball's Kitchen is a AAA Four Diamond restaurant.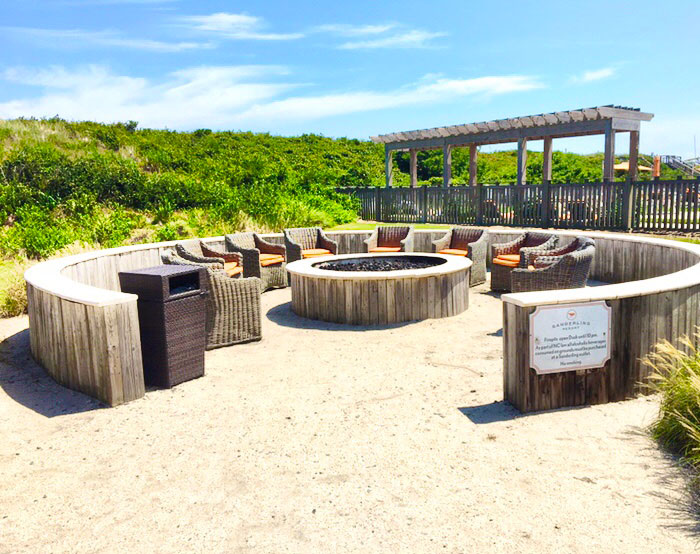 During my stay, there was always something to do, or in my case, not to do. I spent time lounging by the adult pool with a book or sitting at The Sandbar having a drink and talking with guests. In the evenings, I watched as families gathered by the enormous firepit with the makings for s'mores, which by the way, is provided in a cute little burlap bag in your room.
Being in the Outer Banks is very low key but not without activity if you so choose. The resort can set you up with surfing, kayaks, kids activities and bikes to go out on your own around the town of Duck. Duck, in my opinion is the cutest, quaintest town of all the towns that make up the Outer Banks. It is upscale with a laid-back charm. There are enough shops, restaurants and bars that will keep you exploring all afternoon, but before you leave, make sure you swing by Sunset Ice Cream for a treat.
Back at the resort, I dropped off my bike and headed to the lobby bar. I say lobby but it is more like being in someone's living room. There were a couple of people sitting at the bar and we struck up what I thought would be a brief conversation. Two hours later we were still there and now the bartender was included in our little crew. Too late to eat, I grabbed a book and sat in the little library upstairs and watched as a couple huddled over a board game with wine, laughing.
The next day I decided to try my hand at Bocce ball. It had been years since I played but I couldn't resist. Suffice to say, I need more practice. I spent some quiet time walking the beach and then made my way to Corolla Outback Adventures where I boarded an off-road vehicle in order to see the wild horses that roam the beaches of Corolla. The experience is not to be missed. If you do only one thing, this must be it and I highly recommend this outfitter.
Unfortunately, my time had drawn to a close. There was still so much more I wanted to do, but remember my bucket list? RETURN is written in indelible ink.
(Visited 93 times, 1 visits today)
Tags:
beach
,
outer banks
,
sanderling resort
,
travel
Last modified: September 14, 2020