The Children's Trust distributed over 360,000 units of personal protective equipment (PPE) items to youth development and early intervention providers. Among the items given out were adult and children masks, no-touch thermometers, gloves and gallons of hand sanitizers. The PPE were based on provider need.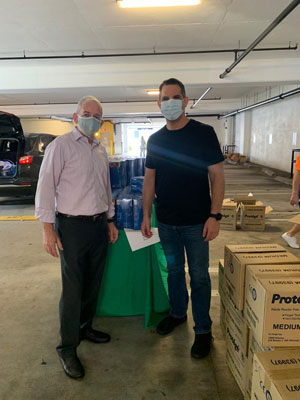 "Every summer provides opportunities to positively direct the energy of our children and youth, but as we approach what could be the most uncertain summer of our lifetimes, the need for safe and productive activities in the upcoming months is more critical than ever. For that to happen, we need to make sure our early intervention and youth development providers have all the Personal Protective Equipment (PPE) they will need in order to keep the children and workforce safer," said President and CEO, James. R. Haj, of The Children's Trust. "That's why the Trust is supporting our partners by suppling the much needed and essential PPE with this distribution event today."
WHO: CEO and President James R. Haj, Chief Policy and Engagement Officer Donovan Lee-Sin and Associate Director of Program Sabine Dulcio of The Children's Trust, will be on hand for the distribution of PPE. Over 120 service providers of youth development and early intervention programs will pick up the PPE.
WHEN: The distribution took place from 10:00 a.m. to 12:00 p.m., Friday, June 5.
WHERE: The equipment distributed on the First Floor of Parking Garage (UW Children Advocacy Complex) at The Children's Trust headquarters, 3150 SW 3rd Ave, Miami, FL 33129.