Ortanique's Chefs Cindy & Ashley Hutson to prepare a dinner paired with wine Friday, March 27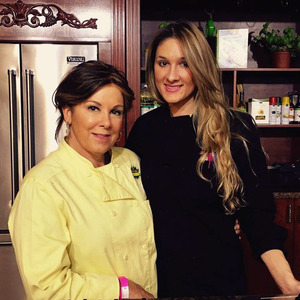 Now in its 16th year, the Deering Seafood Festival has added a new event as a prelude to the festival, which takes place on Sunday, March 29. On Friday, March 27 at 6:30 pm, Chef's Table will kick off the weekend with a 3-course dining experience curated and prepared by Chefs Cindy and Ashley Hutson of Ortanique, the celebrated restaurant in Coral Gables. The event is limited to 150 people and takes place at the Deering Estate,16701 SW 72nd Avenue, Palmetto Bay.
Chef's Table will be held under the stars in the center of the historic courtyard of the Deering Estate and will feature a cornucopia of seafood delights. The event is more than a dinner, it is an experience. Following a champagne reception, Cindy Hutson, executive chef/owner of Ortanique, along with her daughter Ashley, the restaurant's general manager and chef, will begin by conducting a cooking demonstration, preparing the guests for the epicurean delights to follow.
Michael Thaler of Breakthru Beverage will provide details on how to pair wines with each course that will be served, along with a fanciful lesson on crafting a specialty bourbon cocktail. A graduate of the Leysin School of Hospitality in Switzerland, Michael's knowledge of wines and spirits is enhanced through years of extensive travel to wineries throughout the world.
The Deering Estate Foundation is especially excited to have Cindy Hutson as the featured chef of its first Chef's Table, as Cindy was one of the first chefs to conduct a cooking demonstration in the early years of the Deering Seafood Festival. An award-winning chef, Hutson is self-taught and been cooking since age nine. She opened her first restaurant Norma's On the Bay in 1994, later opening Ortanique in 1999.  She is the author of two cookbooks, and when she's not in the kitchen, she can be found lending her culinary expertise to the food community by hosting events, intimate cooking classes and mentoring young women through the James Beard Foundation's Women in Culinary Leadership program.
Hutson's culturally diverse and seasonally driven culinary style is heavily influenced by her extensive travel and food history. Her signature "Cuisine of the Sun" is a self-coined approach that means to create without limits and cook everything under the sun, infusing nuances of her famous island flavors throughout. "I thrive on teaching about our earth's bounties, edible history and utilizing indigenous ingredients that are regionally prepared," says Hutson about her culinary inspiration.
Tickets for Chef's Table are $175 per person, or $150 for members of the Deering Estate Foundation and may be purchased by calling 305-235-1668, ext. 272. The event begins at 6:30 pm on Friday, March 27 at the Deering Estate, 16701 SW 72 Avenue, Palmetto Bay. https://deeringestate.org/event/chefs-table-on-the-bay/. Chef's Table is sponsored by Breakthru Beverage, Golden Rule Seafood, Martinis Fine Wine & Spirits and Ortanique.
The 16th Annual Deering Seafood Festival on Sunday, March 29th is a non-stop celebration of nature's beauty and bounty, featuring Florida's freshest fish and seafood, celebrity chef demos, live music and activities for the kids that are both fun and educational.  www.deeringseafoodfestival.org. All proceeds benefit the Deering Estate Foundation, to raise awareness and support programming for community, conservation and culture.
(Visited 45 times, 1 visits today)
Tags:
chefs table
,
deering estate
,
seafood festival
Last modified: February 26, 2020