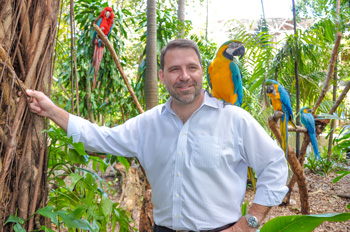 This October Jungle Island comes alight with Luminosa Festival of Lights. The captivating instagram-worthy experience will span 13 of the park's lush 18 acres and will feature hundreds of giant lanterns – beautifully hand-crafted out of colorful silk by the world's top Chinese Lantern Festival creators. The festival paints a magical story of the jungle, its wildlife, birds and blooms, and Biscayne Bay, while showcasing the exciting transformation of South Florida's popular eco-adventure attraction. We caught up with John Dunlap, CEO of Iconic Attractions Group and President of Jungle Island to learn more about the soon-to-open experience.
How did the idea come about and how did you connect with the creative team to make it a reality?
As Jungle Island transforms into a world-class eco-adventure park and events destination, our vision for the attraction is to extend the traditional daytime model to an exhilarating nighttime experience. In doing so, it was important for us and our owners, ESJ Capital Partners, to conjure an event that would help launch our new nighttime experience, while serving as a celebration of our evolution, surroundings and destination. We were drawn to the beauty and history behind Chinese Lantern Festivals and sought out the world's industry leader in these festivals to help bring our vision to life with Luminosa.
How long did the planning and setup take? What were the challenges involved in such a large scale installation?
From our initial outreach to set-up, the entire process took approximately two years. Like any event with a large-scale production, we encountered challenges along the way – mainly due to language barriers, time differences and being a world apart from Zigong Lantern Group. But together with ESJ Capital Partners and Zigong Lantern Group, we were able to reimagine the most splendid Chinese Lantern Festival and place our own unique Miami spin on it.
Why was it so important to reflect the city of Miami in the installation?
There's a reason why Miami is called the Magic City. It is this very magic that compelled us to infuse authentic destination experiences into Luminosa. From a 114-foot long by 26-foot tall panoramic reinterpretation of an iconic Wynwood destination to the quintessential South Beach art scene on our private beach, visitors will be awe-struck by the sheer size and beauty of these colorful and intricate lanterns.
Sharing images on social media is so important for events these days- how are you encouraging visitors to share their experiences?
We are quite certain Luminosa will be Miami's most Instagram-worthy event of the year. Without being prompted, our visitors will want to take out their mobile phones and capture the magnificence of the wonderland we have created on 13 of the park's 18-acres. Jungle Island will also post several contests that encourage guests to further engage and share their experiences on social media. There will also be selfie-designated spots set-up throughout the park.
What are you plans for 2020? Anything exciting we should be looking forward to?
I'm glad you asked! Around the opening of Luminosa, Jungle Island will be gearing up to simultaneously debut new adventure attractions as part of its reinvention into an eco-adventure park. This will include a treetop village and aerial adventure park, providing visitors with the opportunity to challenge themselves by getting up into the tree canopy through a variety of adventure activities, while encountering the nature, animals and water that surrounds Miami's popular attraction. We feel this will appeal to both locals and tourists. In addition, our younger guests will be able to explore a new themed playground.
Since we are in South Florida, we also want our guests to be able to enjoy the water. We are redeveloping our beach, the only private beach in Miami. In the future, we will also construct a multi-acre crystal lagoon for swimming, as well as a lazy river that will allow guests to meander along a river while surrounded by a beautiful botanical garden and some of the world's most rare animals. Jungle Island will also boast environmentally-friendly, energy savings touches including solar flowers and wind turbines.
To date, Jungle Island has made a number of enhancements and additions to further enrich the guest experience. New amenities include the thrilling SuperFlight, two Escape Rooms and Adventure Bay pop-up. Jungle Island also boasts 350 animals, new food & beverage options and enhanced VIP animal tours. Our loyal fans have been pleased by the dramatic changes that have taken place to date – new trails, a picturesque banyan deck and tropical foliage provide a uniquely jungle experience in the heart of Miami.