Bluegreen Vacations Delivers the Dream at Marlins Park!
In recognition of Childhood Cancer Month, on Friday, September 20th,  Bluegreen Vacations, the official vacation ownership provider for the Miami Marlins, welcomed Deliver the Dream child Logan Cruz, a child battling pediatric cancer to Marlins Park.  Bluegreen arranged for a once-in-a-lifetime VIP Marlins experience for Logan at the game. Eleven-year-old Logan was diagnosed with T-Cell Acute Lymphoblastic Leukemia in 2017, entered maintenance treatment in April of 2018, and attended his first Deliver the Dream retreat that same year. The Cruz family joined Bluegreen associates and President and Chief Executive Officer Shawn B. Pearson for an afternoon at Marlins Park where Logan signed a one-day contract with the team's Assistant General Manager Brian Chattin, shagged baseballs with the players, threw out the ceremonial first pitch, and participated in the line-up card delivery.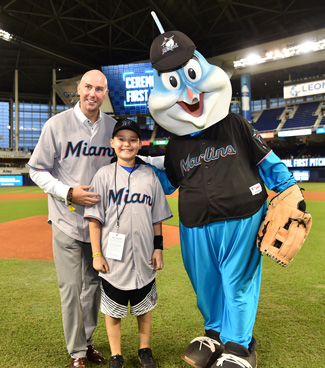 Bluegreen has been partnering with Deliver the Dream for nine years, hosting families dealing with genetic syndrome disorders and raising $2M to support the organization. Deliver the Dream helps families undergoing chronic illness or crisis to regain strength in mind and spirit. The company is proud to serve as host resorts for the organization's retreats, including two this year. These retreats provide families an opportunity to relax, enjoy time together and create a support network with other families that are facing with similar challenges. Most recently, Bluegreen also launched a voluntourism program in partnership with Deliver the Dream providing owners and guests a chance to make a positive impact on families in need while creating meaningful vacation memories.