Last month I wrote about a small town on the 4th of July in Georgia called Dahlonega and how it was the most patriotic town I have ever seen. However, beyond its patriotism and the amazing people that inhabit this town, there is so much to do. I was there for four days and then went back to do this follow up piece and I still left wishing I had more time.
Here is a piece of history I did not know. Dahlonega was the start of the gold rush back in 1828. Everyone equates California with the gold rush but it actually started in this sleepy little town. There is a gold museum, which I found fascinating, and two mines you can tour and "pan" for gold. If you are really into recreating your own gold rush, you can pan for gold in the streambeds and you just might find some.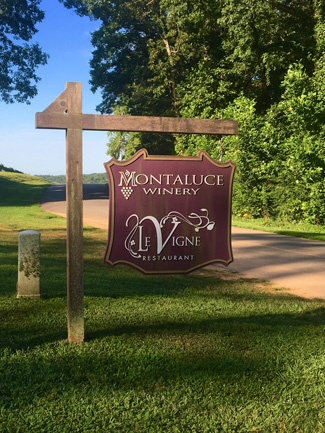 Once you have tried your hand at making your fortune in gold, you can visit the vineyards and wineries that dot the countryside, not to mention no matter what direction you walk in town, you will come up on a wine bar. Unfortunately, I didn't have enough time to visit all of them, nor could I because I had to drive. Each vineyard has its own special charm and the taste of their wines is completely different due to the fact that each vineyard has its own winemaker. Stop by Cavender Creek Vineyard and sit with the locals on Friday night to listen to live music on the porch. If you are looking for that Tuscany feel, visit Montaluce Winery, have a fabulous meal at Le Vigne restaurant while sipping wine and looking out over the vineyard. They even offer a vineyard hike, which I was fortunate enough to take and I highly recommend it. Three Sisters Vineyard was the first vineyard in Lumpkin County and sits on 184 acres in the Dahlonega Plateau region. The views are breathtaking as its wine.
To be honest, after all that wine I needed a nap and I found the perfect spot at The Old Storehouse Inn owned by Mike Miller who is also a local artist. I stayed in the Piano Room where an old piano has been fashioned into a headboard. The room, with its fireplace and eclectic feel, is where you definitely want to hang your hat at the end of the day. If the Piano Room is booked, ask for the Stanton Room, which I loved as much.
Dinner that night was at Grapevines, a casual Italian restaurant with superb food and service. Next stop was Connie's Ice Cream Parlor, another Norman Rockwell painting come to life and finally, a pit stop at Bleau Gallery where Mike has his artwork and yes, a wine bar.
I was up early the next morning as I wanted to hike the Lake Zwerner Trail but not before I stopped at Picnic Café and Dessertery downtown for coffee and one of the best scones ever. There are so many trails in this area and some have beautiful waterfalls. There is Helton Creek, Dukes Creek. Raven Cliff and Amicalola Falls. If hiking isn't your thing, you can kayak, tube down the Chestatee River, horseback ride or zip line.
During the day I would strongly suggest taking the time to wander through the antique shops and art galleries that are sprinkled through the town. You must make a stop at Paul Thomas Chocolates and the Fudge Factory, but only on the days you plan on hiking! There is also a very special tea shop called My Vintage Gypsy which not only offers unusual teas but some magical happenings as well.
Of course, with all the hauntings that have gone on in Dahlonega, your trip would not be complete without a ghost walk from Dahlonega Walking Tours. I took the Grapes and Ghost Wine Tour and loved it. There is so much more I could write about this special place but my time has run out and I'm packing to head back to make my fortune in gold. See you at the wine bar!
---
Debbie Martinez is a Miami Dade resident and Travel Editor for The Florida Villager. She can be reached at debbiemartinez1@mac.com.