From financial options to homeowner benefits, we spoke with solar expert and owner of Cutler Bay Solar Solutions, Raul Vergara about the ins and outs of making the solar switch.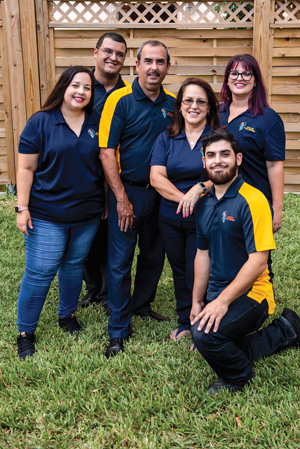 Solar energy gets a lot of attention, but from a homeowner's perspective what are the benefits?
From a financial perspective, the energy consumption of a residence is the second highest cost associated with that home. The adaptation of a renewable source of energy can substantially and immediately reduce that cost. Our average homeowner immediately sees a reduction of 80 percent to 90 percent on their home electric bill. It's cheaper to produce your own energy than it is to buy that energy from FPL. The use of renewable energy such as solar panels also has a great impact in reducing an individual's carbon footprint as purchasing your energy from the utility company can mean that your energy was produced by burning fossil fuels or natural gas. These are practices that have a negative impact on our planet, and solar panels greatly reduce the need for those negative practices while providing you with clean renewable energy. Solar panels also benefit the structure of the home. They make the roof stronger and they keep the home cooler overall. Statistically homes with solar are also worth more.
Is anyone a candidate for solar and are there certain areas or homes that are easier to install than others?
South Florida is a wonderful place for solar installations, ranking in the top 10 percent of solar exposure in the USA. That being said, not everyone is a candidate for solar. In order to take advantage of the savings of solar you must own have roof that has a sunny area where the panels can be installed. On the typical residential installation, we look for a southern or western exposure with about 400-to-800 square feet of space available or an area from about 20-feet by 20-feet. This area should be free from any type of shading caused by other buildings or the local vegetation. The higher the energy consumption of the home, the larger the area needed to install the solar panels. Areas with minimal shading make for simpler installations and metal roofs require no penetrations for mounting the panels so that process is a bit faster for installs.
What is the starting point for someone interested in bringing solar solutions to their home?
Any homeowner interested in finding the benefits of solar for their home should contact a solar provider for an in-home consultation. At Cutler Bay Solar Solutions, we have a dedicated team of experts that can visit with you to learn your needs and determine if solar is right for you. We provide this service free of charge so the homeowner can make an informed decision. Our staff includes an in-house engineer that allows us to truly provide the best solutions to the individual homeowner.
Is there an entry point that most customers begin with?
A homeowner can start with any size system they are comfortable with. We find that once homeowners learn the benefits and affordability of solar they install systems to offset their consumption, most lowering their electric bills below $10. Our systems are modular so even with a small system the homeowner can benefit immediately and then add to it in the future.
What sets Cutler Bay Solar Solutions apart from other solar energy experts in South Florida?
Cutler Bay Solar Solutions has always been focused on our level of customer service. We are not a company that is going to sell you a system and leave. We are fully committed to the customer experience. We have a professional sales team trained to understand your needs, and we design every system with our engineers. Our full line of products give the consumer the widest variety of products to choose from and our installation teams have years of experience making our work clean, efficient and reliable. We are a local installer capable of handling your home with the care and attention it deserves while still enjoying the benefit of the largest manufacturer support nationwide in the area. With over 690 homes and many commercial projects like the University of Miami, and Miami-Dade College Kendall Campus, we bring a buying power not available from anyone else. We have been chosen by Solar United Neighbors eight times for their local installations.
You are a family owned business; how does that play into your day-to-day operations?
Being family owned allows us to make better decisions for our customers. We often refer to our customers as our solar family. Being family owned means we have a commitment to our local economy, and to supporting our schools and local organizations because this is our home and our families share it. Being family owned and having the ability to provide that great customer service has allowed us to grow to be one of the largest solar installers in this area.
Give me an example of a recent project that you are especially proud of?
We are proud of all our projects, but we recently had the opportunity to involve ourselves in a home where an elderly couple was struggling with their monthly expenses. Our sales team identified several areas where their older home was losing energy. By putting together some volunteer labor and the right equipment we lowered their energy consumption by 50 percent and installed the right size solar system. Not only are they saving 80 percent from their monthly cost before the changes, but now they do not have the fear that the cost of energy will increase next year. Having this impact in our customers lives is why we do what we do.
How do you educate clients on their solar options and what is the process of planning and installation?
We have a team of experts that meet with each client. The first step is to understand the customer's needs, then we study the current equipment and consumption and last we make suggestions to improve the home including the correct solar size system based on the customer's needs. We offer our customers all of the information about the different available options, including both centralized inverters and microinverters so that the customer can decide what they want based on education. From the moment a consumer decides, we go to work on the structural and electrical plans. We then secure all the local municipal permits and schedule the installation. Our typical installation in a home takes five days including the inspections. From contract to working system we average about six weeks.
Where does the cost fall?
The cost of solar panels has dropped tremendously over the years. Today the average consumer can install their solar system for rates far below their current electric cost. At the end of this year the current 30 percent federal tax credit will end and be replaced with a lower percentage, so if solar is something you are interested in this is the time to speak with us. There are many financing options, most with low interest rates and no out of pocket costs. Many even allow homeowners to make no payments until November of 2020, allowing them to pay for solar panels with the savings from their electric bill.
What is the upkeep and how do you follow up and work with clients after installation?
Solar panels have no moving parts so there is little to no upkeep, although keeping them clean is crucial. Our rain does a great job, but sometimes it will need help from hoses. It would be sensible to install a solar monitoring system as well so you can see the daily production and track savings, as well as identify any issues.
---
For more information, please call Cutler Bay Solar Solutions at 305.280.0638, or visit cbsolar.miami. Photos by Julia Rose Photo / @juliarosephotog