On April 26, 2019, 140 golfers enjoyed 18 holes of golf and a luncheon at the 32nd annual WestonLawyers.com Golf Classic hosted at Weston Hills Country Club in Weston, Florida. Each year, this event raises funds for the Rotary Club of Weston scholarship fund, which supports local high school seniors who wish to attend college. It is important to the Rotary Club of Weston to support the young members of the community as they further their education. As a continuation of its ongoing dedication to the local community, Fort Lauderdale-based Freedland Harwin Valori, PL, a consumer justice law firm, served as the Title Sponsor for the 12th consecutive year.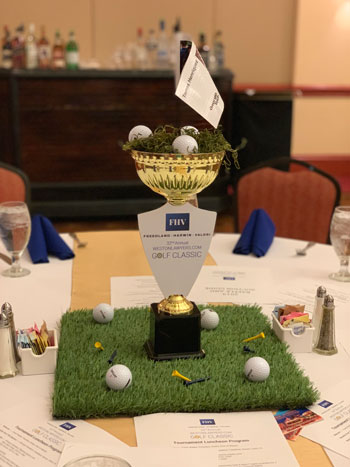 This year, the event, co-chaired by Mary Beth Casey and Andy Suarez, raised nearly $125,000. One hundred percent of the proceeds from the tournament go toward scholarships, ranging from several hundred dollars to full two- and four-year rides, presented to outstanding seniors from Cypress Bay High School, Western High School, The Sagemont School and HANDY. Scholarship recipients, selected from hundreds of applicants, demonstrate qualities of character reflecting Rotary's motto of "Service Above Self" and will be recognized at the club's annual Scholarship Awards breakfast on May 23.
"We had a memorable day on the Weston Hills golf course and it is even more rewarding to know we are raising funds to award scholarships to outstanding seniors who work hard in school and will continue to make a difference in the community," says Michael Freedland Esq., founding partner of the Freedland Harwin Valori, PL and past president of Rotary Club of Weston. "Annually, the Golf Classic has seen an incredible amount of success and Freedland Harwin Valori, PL is proud to be the Title Sponsor once again."
The Rotary Club of Weston focuses its community service activities in the areas of Services to Youth (including education, scholarship and learning development) and Services to Families in Need through volunteerism, the application of member skills, organizational resources, and fundraising activities and events. The Rotary Club of Weston meets at Weston Hills Country Club every Thursday at 7:30 a.m. for fellowship, breakfast, and an informative presentation from a guest speaker. To learn more visit www.westonrotary.com.
---
About Freedland Harwin Valori, PL:Freedland Harwin Valori, PL is a consumer justice law firm that has been involved in some of the nation's most significant litigation. It practice areas include medical malpractice, defective drugs and medical devices, nursing home negligence, birth injury, auto accidents, and premises liability. Freedland Harwin Valori's main office is located at 110 SE 6th Street, #2300, Fort Lauderdale, FL 33301. Its Weston office is located at 2400 N. Commerce Parkway, #109, Weston, FL 33326. To reach Freedland Harwin Valori, call (954) 467-6400. For more information, visit www.fhvlegal.com.