At KLA Schools, the melting pot that is Miami culture is more than just geographical happenstance, it's a part of the curriculum.
The schools (there are five in Miami and 19 in total) take their student body seriously, proudly displaying a map and list of where each family within the school is from in their lobbies and hosting "Cultural Week" each year where students can share their family origins, culture and traditions. "We delve into different types of cuisine, traditions, music, clothes, etc..," says Adriana Lamas Ortega, the school's Director of Admissions. "It's really a great way for the children to express more about themselves while learning about their friends."
Founded in 2008 by Roberto and Candy Ortega, KLA Schools was built on the desire to provide an inspiring curriculum, a nurturing environment, and high quality education to students across America. Today, as the schools have grown (the first franchise opened in 2010), the schools have become known for their low student-to-teacher ratios, community focus and dedication to the Reggio Emilia approach, an early-childhood educational philosophy built on student-focused experiential learning; or, put more simply, much of the student's learning comes down to relationships. "I think our Pedagogical Director has said it best—we all have different learning styles," says Lamas Ortega. "We need to reach every single student in our classroom because the world is about putting together the strengths that we each have, it's not about being the same; it's the contrary. It's about learning to work together and to respect each other's strengths."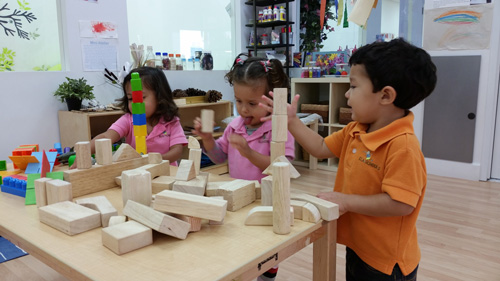 The approach also places much emphasis on providing meaningful experiences to the students, who range from infants to Kindergarten age, while letting them set out their own path of learning. "The biggest benefit for preschool-aged children (any child really), is that this philosophy holds such a high image of children, which allows them to learn at their own pace and through their own strengths," says Lamas Ortega.
One aspect of that learning is finding a deep connection to the community around the individual school and the events that are shaping the lives of the children. At the Palmetto Bay campus, Lamas Ortega says that last year's Hurricane Irma had a major impact on the students, prompting the staff to bring those observations and dialogues into the classroom. "Most of our students were evacuated, or left Miami, so coming back to our school after such a prolific event was huge," says Lamas Ortega. " We immediately jumped into conversations about where we were, why we left, why was it important. Our students were able to talk with each other about their experiences, and have conversations that led to our planet and its natural occurrences."
Current events have also found their way into parental communications, with the school taking a strong approach to safety thanks to double sets of doors (meaning no direct access to classrooms) and cameras on site throughout the campus. "Anyone who comes to visit the school must bring a valid photo ID—without it they aren't allowed into the school, and they must be accompanied the entire time by someone in our staff," says Lamas Ortega, who is a parent at the school as well as an administrator.
In addition to layered security measures, the Admissions Director says parents are often drawn in by the school's immense investment in the training of their teachers. Teachers are provided with ongoing professional development and participate in on-site education with other KLA schools and are given professional development time daily, something Lamas Ortega says allows them to not only plan the student's experiences, but to analyze them as they develop new ones. "We are so proud to have an amazing relationship with consultants from Reggio Emilia, the birth place of this amazing educational approach, and they are coming for professional development again this year. We have been blessed in the past to work with them, and this year will be no exception."
"This is a school that is constantly evolving," she says. "Every aspect of what the educators are learning is being adapted to create an environment that supports each child's individual process."
Quick Take: What is KLA?
"KLA Schools is a dynamic, developmentally appropriate program that is inspired by the Reggio Emilia philosophy of early childhood education. An inviting, respectful, and consistent environment, our goal is to provide a place where children's abilities, competencies, and natural aptitudes are nurtured in ways that develop new and inherent talents. Our educators believe in the child's competency and potential. They embrace children's ideas, points of view and participation in their learning experience. Our educators appreciate professional development in understanding more and more about the child's thinking and learning processes. Children have their own strengths and interests, and when given the opportunity to share, they support the expansion of the knowledge of their peers and teachers. At KLA Schools, we offer children a place to become aware of their love for learning. Children are honored in our program and are acknowledged as the protagonists of their learning experience." – Adriana Lamas Ortega, Director of Admissions, KLA Schools
---
KLA Schools of Palmetto Bay is located at 14875 S Dixie Hwy, Miami, FL 33176. Please call 305-233-0130, or visit klaschoolspalmettobay.com for more information. For information on other KLA locations, please visit klaschools.com.