Passions come in all forms. Yet, it's only a very few who have the talent and motivation to turn those passions into a successful career. 23-year-old Wendy Diaz can be counted among those few.
Diaz, the owner of Pinecrest's Inkpressions beauty studio, channeled her eye for an eyebrow into a successful business, helping women across South Florida experience a new version of what many would call "permanent makeup." That phrase however, isn't what it used to be. "The idea of permanent makeup had such a bad connotation for so many years," says Diaz. "What we do now is completely different. The pigments are different; the techniques are different."
To clients, that translates into a couple of things. First, Diaz uses only organic pigments (she's a longtime vegan) that are both cruelty-free and free of any heavy metals. She also employs a newer technique when placing the pigment in eyebrows or lips (her two most popular services). "People used to go deeper and it would stay longer, but change color over time," she explains. "Today we use a semi-permanent technique, so it's lighter and it fades naturally over time." Diaz says this not only allows for a "prettier," more natural look, but also gives clients the option of changing their look in the future. "Trends change, your skin can change; it's always better to have options."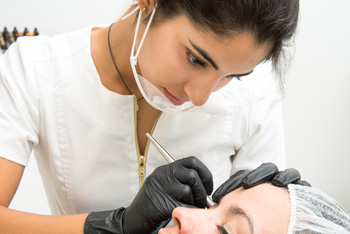 Inkpressions clients are most interested in Diaz's two specialties: the fast-growing microblading, in which color is deposited into skin to shape and fill-in sparse eyebrows; and lip or eyebrow micropigmentation, which works as a shading technique to give a more "makeup" or dramatic look. But even within that realm, Diaz cautions she is one to stay true to the client's natural beauty, turning away customers who want anything she see as "too much." "I won't do anything that won't look pretty and natural," she says.
Diaz's eye for beauty has been honed since she was child and was admittedly "always focused" on eyebrows. ("I've been doing my own eyebrows since I was 15. It just comes naturally to me.") She began in the beauty business doing eyelash extensions at her mother-in-law's beauty studio, but found hours of gluing lashes too tedious for her taste. When she was offered the opportunity to study microblading she was hesitant, but soon found the process fascinating; ending up in a six-month intensive course to perfect her art. "After about a year, I decided that I really liked it and wanted to expand my knowledge, so went back and I learned to do lips, eyeliner, lash enhancement… I wanted to be able to offer options," she says.
Now, she offers all of the above as well as non-laser tattoo removal and brow shaping at her Suniland-area studio. Her clients run the gamut, she says, but typically fall into the 30-50 age range. "Anyone is candidate," says Diaz. "I work with all ages and all skin tones." A typical session will take about two hours, with time factored in for education and client questions. Touchups may be required after about a year, she says.
"I truly found my passion," says Diaz. "My goal is to do permanent makeup in the most natural looking way."
---
Inkpressions is located at 11921 South Dixie Highway, Pinecrest, FL 33156. For more information, please call 786-309-4629 or visit inkpressionspmu.com.